Line of Duty – Series Five
Cold-blooded murder; police corruption; a criminal underworld; complex detectives. We've seen these ingredients in multiple TV shows in the last decade or more, so it is maybe a surprise that the opening episode of the fifth series of Line of Duty attracted 7.8 million viewers. That's more than a tenth of the UK population, and doesn't include those like me who saw it on iPlayer.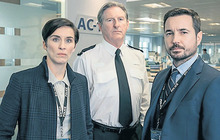 By the time this article is published, the series will be reaching its climax and those numbers may well have risen. TV awards and critical accolades win viewers, as does the BBC's own hype, but there is something about this type of police drama which keeps on attracting attention, and something particular about Line of Duty which grips its fans.
Written by Jed Mercurio, who also wrote the successful 2018 series Bodyguard, Line of Duty features at its core three detectives (DC Kate Fleming (Vicky McClure), DS Steve Arnott (Martin Compston) and Superintendent Ted Hastings (Adrian Dunbar)) who work for AC-12, a unit investigating police corruption. Whilst each series focuses on its own storyline, a thread through all suggests a connection between that corruption and an unknown senior officer. To me the dialogue and camera work are obvious, but the plotting, with high levels of tension and multiple twists, is a massive hook. And there is something in the very everydayness of key characters and settings, even down to the drab colours, which makes the drama of the events more plausible and compelling.
A history of goodies and baddies
We're used to exceptional detectives. From Sherlock Holmes to Philip Marlowe and Miss Marple, private investigators in books and on screen have been extraordinary in their insight, character and ultimate control. Whatever mayhem has been unleashed by criminals, their brainpower has brought order, often no thanks to the inept police around them.
We're also used to the flawed or mysterious detective, such as Morse in the 90s or the heroes of Scandi noir, who have managed, despite and sometimes because of their weaknesses, to bring justice to complex situations. Then there are the more recent policemen, like Idris Elba's Luther, who don't do things by the book and are morally compromised, but who, in the end, fight for what is right.
Line of Duty, like all of these, promises some degree of justice and the righting of wrongs, but it does this through men and women in suits who drive ordinary cars, who have children and ordinary homes, rather than drink problems and super-intelligence. We can watch on our sofas and be satisfied.
Viewers, whether Christian or not, have God's moral law inscribed upon their consciences and to see it reaffirmed on screen brings comfort. Order being brought to a chaotic world by people like us is even better. We want to see that there are baddies and goodies, and that justice will eventually be served.
Life in the real world
But Line of Duty shows us more. To AC-12, the agency which guards the guardians, the goodies and baddies aren't always obvious. Policewomen are embedded in gangs – looking bad, but being good – or they leak information – looking good, but being bad. Sometimes we viewers get privileged access to the truth, sometimes we don't. Even now, in the fifth series, can we really know if the three central actors are all on the right side? And for some characters the slide from the right side to the wrong, just like in real life, isn't always dramatic or obvious. A panicked response covering something up, or helping out a family member, or doing what a senior colleague has told you, leads individuals into corruption and crime. Such moral ambiguity creates tension and credibility on screen, but uncomfortably illustrates our lack of certainty. In a godless
Steve Arnott (Martin Compston) | photo: BBC
world how can we know what is true and good? Is there nothing truly good? And if the guardians are so vulnerable, any order they establish is also going to be vulnerable.
Line of Duty is less Agatha Christie than Hamlet in a polyester suit without the poetry: order is established by the end, but only through pain and blood-letting. The criminal is not out there but probably in here. And however uncomfortable that is, it fits with the gospel, doesn't it? Our hearts are deceitful and capable of great sin. The humans on the good side aren't superhuman at all. But without certain truth and a reliable rescuer, the world of Line of Duty can provide no real rest at all.
Sarah Allen lives in Huddersfield and is a member of Hope Church where her husband is a pastor. She teaches A-level English and is currently studying for a Masters in Theology.