Line of Duty – Series Five
Cold-blooded murder; police corruption; a criminal underworld; complex detectives. We've seen these ingredients in multiple TV shows in the last decade or more, so it is maybe a surprise that the opening episode of the fifth series of Line of Duty attracted 7.8 million viewers. That's more than a tenth of the UK population, and doesn't include those like me who saw it on iPlayer.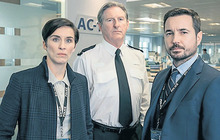 By the time this article is published, the series will be reaching its climax and those numbers may well have risen. TV awards and critical accolades win viewers, as does the BBC's own hype, but there is something about this type of police drama which keeps on attracting attention, and something particular about Line of Duty which grips its fans.