Vatican: child abuse
Child abuse in the Roman Catholic church was allowed to continue as files documenting child sexual abuse were destroyed, a conference was told in February.
BBC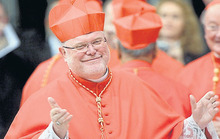 Cardinal Reinhard Marx said that procedures to prosecute offenders were 'deliberately not complied with'. The unprecedented four-day summit brought together 190 bishops from across the world.