India: beheading
A Christian father of five was beheaded on 11 February in Odisha (formerly Orissa) state, eastern India, because of his Christian faith.
Barnabas Fund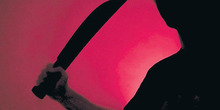 Anant Ram Gand, 40, became a Christian nine months ago. His recent baptism had angered locals in Raigarh Tehsil village, Nabarangapur district, according to local Christian leader Shibu Thomas. Reportedly, the execution-style murder was carried out by Maoist Naxalites* at the behest of local extremists.
Anant's six-year-old son witnessed his father being dragged out of their home by three men on the day he was killed. The terrified boy ran after his father crying and was told by the three assailants not to follow. Anant's wife and four young daughters were not at home at the time of the abduction.
Anant's body and severed head were later found on a nearby road.
Persecution of Christians and other minorities has been on the rise in India since Narendra Modi became Prime Minister in 2014. 'I ask the Prime Minister and the governors to speak clearly against persecution of Christians,' said Thomas. 'The Christians of the villages live in fear.'
*Naxalites are communist guerrilla groups in India.