Lebanon: serving displaced Syrians
Hikmat Kashouh shared in January how the Resurrection Church in Beirut follows Jesus by serving Syrian refugees.
Langham Partnership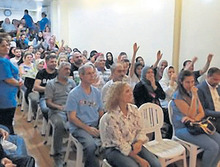 'As a church we had Syrians come to us and they were totally without hope. They had lost their homes, lost their land, lost their properties. The people were traumatised and they came broken, totally in despair. They had no food, no clothes except the ones they were wearing. We had to join hands with a number of churches to be able to serve them,' he said.