Women: finding hope in despair
Being a woman in the Middle East can be challenging at the best of times.
SAT-7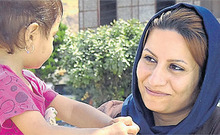 But what if you are a woman struggling with financial insecurity and raising children on your own? Nasrin, a SAT-7 PARS viewer from Iran, was one among the millions of women searching for hope in the midst of loneliness and despair.