USA: no Love for Curry?
Last summer the world was captured by the wedding of the year. Prince Harry married Megan Markle. The most talked-about moment, however, was not the kiss, nor the exchanging of the rings, but rather the sermon.
Jonathan Worsley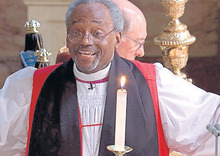 The preacher was the Most Revd Michael Curry. Surprisingly, his 14-minute dialogue was the most treasured component of the whole service, with 40,000 tweets being sent about it per minute. Even more shockingly was the prevalent commendation he received from many Christians. Mark Woods, of Christian Today, described Curry's sermon as a 'potent gospel message'.