China: The Party replaces God
Chinese officials entered a church and ordered the removal of the first of the Ten Commandments, it was reported on 9 January.
crosswalk.com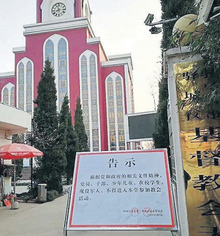 About 30 government officers from a 'patrol inspection team' took part in the examination of the church. They inspected the church thoroughly, then stopped in front of the pulpit and pointed to one of the Ten Commandments on the wall, asking for it to be removed. After church officials protested, the Government official responded that President Xi Jinping 'opposes this statement'.