Asia Bibi update
Sources have confirmed that Asia Bibi and her family are safe and are no longer having to move constantly to escape the many Muslims irate at her release.
British Pakistani Christian Association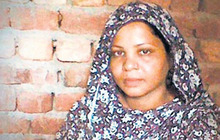 She cannot move out of Pakistan until the Supreme Court has heard the petition challenging her acquittal. She and her husband spent Christmas together in a secret safe location, where they were afforded the best protection that Pakistani security forces could offer. Although this has its own limitations and weaknesses, supporters are encouraged to keep Asia Bibi and Ashiq Masih in prayer and trust God will keep them safe. Concerns exist about previous failures by security details for Prime Minister Benazir Bhutto, Federal Minister Shahbaz Bhatti and Punjab Governor Salman Taseer.