Spotting­ potential
Anyone who is aware of the 'From Embers to a Flame' revitalisation programme will thank God for Harry Reeder, Senior Pastor at Briarwood Presbyterian Church, Birmingham, Alabama.
Richard Underwood,

Elder, Christchurch, Market Harborough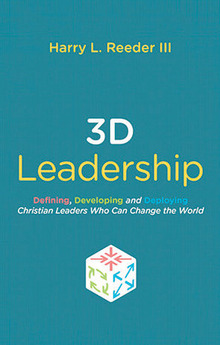 3D LEADERSHIP
Defining, developing and deploying Christian
leaders who can change the world
By Harry L. Reeder III
Christian Focus. 203 pages. £9.99
ISBN 978 1 527 101 562
Buy online from Amazon
It's one of Harry Reeder's oft-repeated mantras that the church should not only be a leadership factory for the gospel, but for the world. Drawing on the biblical data, a wealth of experience and an encyclopedic knowledge of American military history, he presents a model of leadership multiplication that is vital to the wellbeing of the church.
Talking to the UK
The book does exactly what it says on the cover. Part One deals with Defining Leadership, Part Two with Developing Leadership and Part Three with Deploying Leadership. It is written from a distinctly American perspective, which may grate at times. However, if we can get over our cultural prejudices, Reeder has a great deal to say to us in the UK where, overall, we suffer from a chronic leadership deficit which hinders the health of the church and the spread of the gospel.
In terms of the book's strengths, Reeder helpfully emphasises the example of the Lord Jesus as an intentional developer of future leaders and prioritises character over capability. In terms of weaknesses, whilst Reeder acknowledges common grace, he is overly critical of secular models of leadership, many of which owe a great deal to the Lord Jesus' leadership philosophy. Perhaps the biggest disappointment comes at the UK's point of greatest need – not defining, developing or deploying leaders, but identifying potential for them. Either the Lord Jesus has failed to give us the leaders we need (highly unlikely) or we're just not very good at spotting them (highly probable).
Who should read this book? Pastors and eldership teams, along with anyone involved in theological training. Defining, developing and deploying Christian leaders is a serious gospel issue facing us all. For a more specifically UK treatment, I would recommend Marcus Honeysett's Fruitful Leaders.