India: Pastor beaten up
Pastor John Lakra was taking his 18-month-old baby to the hospital for emergency treatment in Odisha state in late October, when hundreds of Hindu extremists surrounded his car.
Morning Star News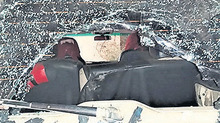 A mob began hurling stones and hitting the windows with rods as they shouted curses at him. Earlier he had received word that Hindu extremists were looking for him regarding a text message and photo insulting the Hindu goddess Durga that a hacker had sent from his phone. He thought they only meant to talk with him.