Asian Christian church in UK celebrates 50 years
Asian Christians from across the nation gathered together in early November to meet in prayer and harmony as they celebrated the formation of the first Asian Christian church in the UK, 50 years ago.
British Pakistani Christian Association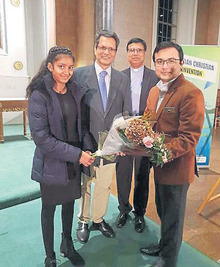 Groups from across the country presented testimonies of the growth of their own churches and their aspirations as they heard past accounts of the famous beginnings of the pioneers.
Presentations
First Secretary Dildar Ali Abro attended in place of the High Commissioner of Pakistan. Trophies were presented to the leading dignitaries within the Pakistani Christian community, which included ones to the first Asian bishop in the Church of England, Michael Nazir Ali, and the first Pak-Christian GP employed by the NHS and founder of Gateway TV, Dr Peter David.
Two trophies were collected posthumously. One for Daniel Singh: 'Outstanding Leadership for Pakistani Christians in the UK'; and one for Asif Bhatti: 'Outstanding service for the Pakistani Christian community in the UK.
Guest Speakers included Teerth Sond, a Sikh convert to Christ who leads The Fellowship of Saints in Walsall.
CofE minister
Daniel Singh, the first Asian minister ordained in the Church of England and arguably across any denomination in the UK, had galvanised the church and due to his impeccable morals and dedication to his work was able to build a thriving Asian Christian church which at its peak is believed to have around 70 members. This was a large number, considering how few Pakistani Christians there were in the UK at the time.
In 1978 the Bishop of Stepney, the Rt. Revd Trevor Huddleston, paid for Revd Daniel Singh to attend Oak Hill College and, after completing his course, Daniel Singh became an ordained minister. He led the church with great honesty and integrity and people were touched by his passion for God.
Church in the home
Prior to 1967, the Chowdhry brothers had started a home church. The church grew from strength to strength and was serving a congregation of around 50 people with over 100 attending for special Christmas and Easter events. The church moved from St Mary's Church in 1994.
Wilson Chowdhry said: 'Celebrating the last 50 years or so of the pioneering Pak-Christian church that began at St Mary's and proliferated across the UK through traceable oral-history links has been both awe-inspiring and a testament to the indomitable spirit of our community. Every adverse moment led our community to greater things and bigger challenges and our recent celebration cemented that into the hearts of those who knew little about that progress. Remembering the achievements of those who came to Britain with nothing and carved out new lives, teaches us that anything is possible when we put our trust in God.'