In days of old when knights were bold
Zoe Carter lives in Edinburgh and has a website of Bible craft ideas. She also writes and illustrates books for young children. These two are the latest in her 'Wise Owl' series. Others in the series pick up on themes from Proverbs; these are about Ecclesiastes.
Ann Benton,

Grace Church Guildford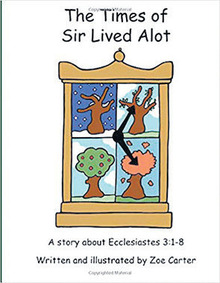 SIR LIVED ALOT/THE TIMES OF SIR LIVED ALOT
Written and illustrated by Zoe Carter
CreateSpace, both £6.99.
Sir Lived Alot: 46 pages.
ISBN 978 1 539 720 317
The Times of Sir Lived Alot: 40 pages.
ISBN 978 1 727 205 350.
Since many adult Christians don't know quite what to make of Ecclesiastes and tend to ignore it, this is a bold move. Out of respect for its intended audience, it is not a comprehensive treatment, but it picks up on major themes. Sir Lived Alot has the title character seeking happiness in money, fame, knowledge and love, but finding it is all empty without the King. The Times of Sir Lived Alot takes the famous poem of Ecclesiastes 3.1-8 that explores the seasons of life and shows that meaning and contentment can only be found with reference to God, who 'made everything beautiful in its time'.
Children's big questions
There is something refreshing about a Bible story book for young children (aged 3-6) which takes the road less travelled. Young children do ask big questions about life, and Ecclesiastes has something to teach them too. It is all grist to the mill for the shaping of a worldview in which God is not a bolt-on extra lifestyle choice, but the one without whom we cannot understand ourselves or our lives. The current generation of children needs more than any in living memory to see the vanity of the many idols which are held up for their pursuit.
The illustrations are big, bright, clear and simple, taking up most of each A4 page. Beginning readers will appreciate the clear print and the fact that there are not many words per page. Weary story-reading parents will be grateful too. There is entertaining creativity in the pictures – 'a time to tear', for example, is accompanied by a picture of a toilet roll. This is a series worth checking out.