In days of old when knights were bold
Zoe Carter lives in Edinburgh and has a website of Bible craft ideas. She also writes and illustrates books for young children. These two are the latest in her 'Wise Owl' series. Others in the series pick up on themes from Proverbs; these are about Ecclesiastes.
Ann Benton,

Grace Church Guildford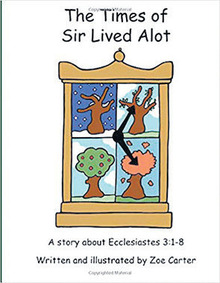 SIR LIVED ALOT/THE TIMES OF SIR LIVED ALOT
Written and illustrated by Zoe Carter
CreateSpace, both £6.99.
Sir Lived Alot: 46 pages.
ISBN 978 1 539 720 317
The Times of Sir Lived Alot: 40 pages.
ISBN 978 1 727 205 350.