Milestones 2019
Joy Horn flags up Christian anniversaries worth noting in the coming year
Joy Horn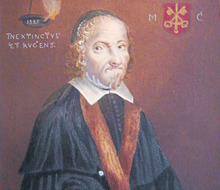 EVENTS
Morgan Llwyd, said to be the first non-conformist minister in Wales, was born in 1619. Converted under Walter Cradock, he served as a chaplain in Oliver Cromwell's New Model Army and became minister in Wrexham. His books have influenced Welsh national consciousness and literature to the present day.
Serampore College in West Bengal, India, was opened with 37 students in 1819. Founded the previous year by the pioneer triumvirate of Baptist missionaries, William Carey, Joshua Marshman and William Ward, it was the first college of higher education in India and has been in continuous operation since then. It offered a broad curriculum to those of any 'caste, colour or country', and trained ministers for the growing church in India.
C. T. Studd's Heart of Africa Mission Evangelistic became the Worldwide Crusade in 1919, setting as its aim 'the evan-gelisation of all the unevangelised regions of the world', relying solely on God for finances. The Christian Literature Crusade grew out of it in 1941.
PUBLICATIONS
Daniel Defoe's book, Robinson Crusoe, was published in 1719.
Edith Schaeffer's L'Abri was published in 1969. It described the work of their home in Switzerland (founded in 1955), a community that welcomed people seeking intellectually honest answers to questions about God and the meaning of life.
JANUARY
20. Miles Coverdale, Bible translator, died in 1568/9, aged 80. Forced to flee England, he helped William Tyndale, and published the first full English Bible in 1535. His work is incorporated in several later versions. Made Bishop of Exeter in 1551, he had to flee to the Continent again under the persecution of Queen Mary.
20. In 1669, the future Susanna Wesley, was born into the Puritan family of Dr Samuel Annesley, as his 25th child. A woman of great character, she is remembered as the mother of John and Charles Wesley, and is often called 'the mother of Methodism'.
FEBRUARY
16. Gaspard de Coligny, later a leader of the French Huguenots and Admiral of France, was born in 1519. He was murdered in the 1572 Massacre of St Bartholomew's Day.
19. Elizabeth Cecilia Clephane, Scottish hymn-writer, died in 1869, aged 39. Despite poor health throughout her life, she wrote hymns such as 'Beneath the cross of Jesus'. Her best-known hymn was 'There were ninety and nine' (1868), which D. L. Moody read in a Christian newspaper and the singer Ira Sankey set to music impromptu at an evangelistic meeting in Edinburgh.
22. Oliver R. Barclay was born to missionary parents in Kobe, Japan, in 1919, and became a significant leader in the Inter-Varsity Fellowship (now the Universities and Colleges Christian Fellowship – UCCF) from the 1940s. He guided the Fellowship through the great post-war expansion of British higher education, and promoted the spread of student Christian Unions worldwide. The journal Science and Christian Belief was his brainchild.
23. Bartholomew Ziegenbalg died in Tranquebar, South India, in 1719, at the age of 36. In 1706, he and his friend Heinrich Plütschau became the first Protestant missionaries to India. Despite much persecution and even imprisonment, they established a church, with school, orphanage, printing-press and training of preachers. Ziegenbalg was also the first to translate the New Testament into an Indian language (Tamil).
MARCH
18. John Bakewell, hymn-writer, died in 1819, aged 98. His majestic hymn, 'Hail, thou once despised Jesus', has been rendered by Jubilate Hymns as 'Hail, O once rejected Jesus', and is often sung to the Welsh tune 'Hyfrydol'.
APRIL
3. Gerhard Tersteegen, German hymn-writer, died in 1769. Converted at the age of 20, he wrote 111 excellent hymns, several of which were translated into English by John Wesley. Not many are in current use, though his hymn, 'Lo, God is here, Let earth adore', appears in some modern compilations.
MAY
14. H. J. Heinz, who founded the canned food firm when he was only 25, died in 1919 in Pittsburgh, Pennsylvania. A man of deep faith, which affected all his business dealings, he was also a promoter of Sunday Schools world-wide.
JUNE
17. Joseph Addison died in 1719. Although only 47, he had been an MP and one of the two Secretaries of State. He was also an author and journalist, who co-founded the Spectator magazine. Two of the dozen hymns he wrote are occasionally sung today: 'The spacious firmament on high' and 'When all thy mercies, O my God'.
24. Theodore Beza was born in Vezelay, Burgundy, in 1519 and aligned himself with the Swiss Protestants in 1548. After John Calvin's death in 1563, he became his successor in Geneva, the spokesman and defender of the Reformed faith and adviser to the French Huguenots.
26. In 1519 a famous debate lasting 18 days started in Leipzig between Martin Luther and Johann Eck. Luther argued that Christian teaching was not defined by the Pope but by the Bible, 'the infallible word of God'.
JULY
13. In Stradbally, Queen's County, Ireland, Thomas Kelly was born in 1769, the son of an Irish judge. While training for the law in London, he was converted and became a pastor and gifted hymn-writer. His hymns combine poetry and the gospel as, for example, 'We sing the praise of him who died' and 'The head that once was crowned with thorns'.
AUGUST
St 15. Patricia John was born in Southampton in 1919. A missionary nurse in Morocco, she wrote several biographies and many fictional works for children, such as The Treasures of the Snow and The Tanglewoods' Secret, some of which have been turned into films.
OCTOBER
4. Rembrandt van Rihn, Dutch painter, died in 1669, aged 63. He portrayed many biblical subjects, with remarkable insight into human nature.
16. John Trapp, Bible commentator, died in 1669, aged 68. His commentaries covered the whole Bible and were not only learned, but full of quaint humour.
20. William Ward, pioneer missionary and colleague of William Carey, was born in Derby in 1769. He served an apprenticeship as a printer and worked on the Derby Mercury, the Staffordshire Advertiser and the Hull Advertiser. This training was well used when he went as a missionary to Serampore, India. He printed portions of the Bible translated into 26 Indian languages.
DECEMBER
8. Some 60 undergraduates from Oxford, Cambridge, London and Durham met in London in 1919 and agreed to work towards establishing Christian Unions as a witness to Christ in every university of the United Kingdom. This marked the beginning of the Inter-Varsity Fellowship, now the UCCF.
Joy Horn is member of Cranleigh Baptist Church.