Anglican Update What kind of wisdom?
In The Book of Common Prayer, the Collect, or special prayer, for the Third Sunday in Advent asks God to: 'Grant that the ministers and stewards of thy mysteries may likewise so prepare and make ready thy way, by turning the hearts of the disobedient to the wisdom of the just, that at thy second coming to judge the world we may be found an acceptable people in thy sight.'
Susie Leafe,

Fowey Parish Church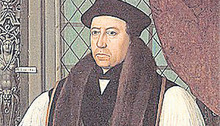 Like so much of Cranmer's liturgy, a great deal of wisdom is packed into just a few words. We are reminded of John the Baptist preparing the way for the first coming of the Lord Jesus and of our responsibility to proclaim the second. We are reminded to pray for our ministers and to pray for ourselves. We are reminded that there is a judgment to come and that the verdict of that judgment is the only one that matters. It is good to ponder these things.