Breaking the Silence in London
What is the church's main response to abortion? If we're honest it can often be described in one word: silence.
Jamie Southcombe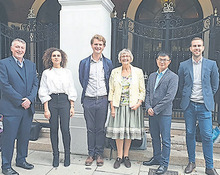 Addressing this problem, Brephos – a new project of the Centre for Bio Ethical Reform UK – hosted a landmark conference on the 16 October called 'Breaking the Silence'. It sought to equip pastors to speak out about this multi-faceted and painful issue. Over 100 church leaders gathered at London's Emmanuel Centre to listen to expert speakers from different fields.