John Richard de Witt
1935 – 2018
Dr John de Witt, known to many readers of en, went to be with Christ on Sunday 30 September in Columbia, South Carolina where he had served as senior minister of First Presbyterian Church.
Sinclair B. Ferguson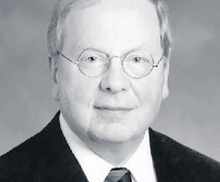 Ordained in 1959, he had exercised a long and varied ministry in Paterson, N.J. (1959-64), Grove Chapel, Camberwell, London (1967-69), Kingstree, S.C. (1970-75), Reformed Seminary in Jackson Miss. (where he served as professor of church history and then of systematic theology, 1975 -82), Memphis, Tenn. (1983-93), Grand Rapids, Mich. (1993-2000, where, remarkably, a new gallery had to be built to hold the increased congregation). He was then drawn out of 'retirement' to First Presbyterian Church in Columbia, S.C. (2001-2005).