Indonesia: tsunami deaths
Thirty-four Christian students attending a Bible camp in Sulawesi died after a mudslide caused by the catastrophic earthquake and tsunami buried a church on 28 September.
Barnabas Fund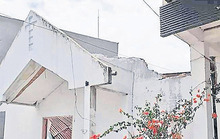 A further 52 students are still missing at the time of writing. The death toll has now exceeded 1,300, while the UN estimates that almost 200,000 people are in desperate need of aid.