Gospel caring
If, like me, you get embarrassed crying in public, this is not a book to read on the train! The book tells the story of Aaron, a profoundly disabled boy.
David Stone,

Assistant Pastor, City Evangelical Church, Leeds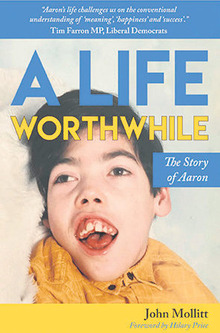 A LIFE WORTHWHILE:
The story of Aaron
By John Mollitt
Onwards & Upwards. 75 pages. £8.99
ISBN 978 1 788 156 851
Aaron was fostered and then adopted by John and Pat Mollitt, and lived in their care for 28 years until his death. It tells of their daily struggles in caring for Aaron: struggling with specialised equipment, battling for funding and managing a series of complex health needs. It also wonderfully tells of the joy Aaron brought to his family and wider community, as a man who could not speak nevertheless communicated his joy and thankfulness. In the author's words 'he gave us far more than we could ever have given him.'
Every life precious
The book shows the reality of living out the Christian belief that every life is God given and infinitely precious. It confronts the temptation to view people through their achievements and reminds us of God's grace to the most vulnerable. As Christians, we have a deep concern for the sanctity of life and the author's experiences show the challenges and blessings of caring for those who most need it.
I found this book moving and encouraging. Mollitt is very open and honest about his joys and hardships and it will help those who are caring for others, and finding it hard to see God at work there. He reminds us of the value of our service in God's sight, even to those who may never be able to thank us. The book closes with a short section drawing out the Biblical lessons learnt.
Perhaps the book might have been stronger if there were fuller areas of reflection spread throughout; this might have allowed a deeper engagement with the Bible in the different aspects of Aaron's life. It would also have been wonderful to hear a little more of Pat's perspective as well as John's. Yet overall this book is a wonderful reminder of the difference given by a gospel perspective on life. Be sure to read it somewhere it's safe to cry!