Teaming up with church
How well do you know your local area?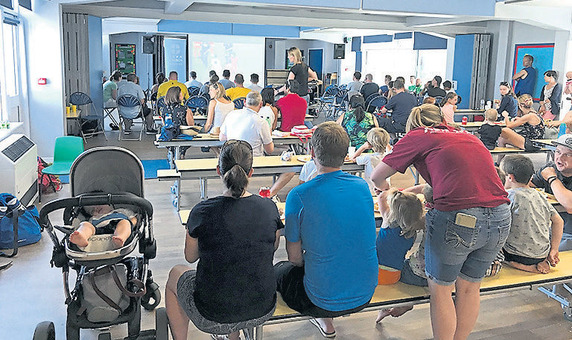 I'm pretty confident that wherever your church is based, there will be sportspeople and sports clubs on your doorstep. And there will probably be sportspeople in your church family too.
Are you committed to reaching your local area with the good news of Jesus? If the answer's yes, then sharing the gospel with sportspeople should surely be part of your church's 'mission strategy', right? As our General Director Graham Daniels highlighted in this column in January, with more than 10 million people playing competitive sport once a week across the UK, there is a huge mission field in our midst – and the church needs to get stuck in.
Sportspeople
In the world of mission, we often speak of 'unreached people groups', but have you considered that your local sportspeople form such a group? In the same way, sportspeople in your church can be missionaries to them, just as, for example, those with gifts in music and art can reach out to their fellow artists and musicians. The list is definitely not exclusive.
At Christians in Sport we long to equip Christian sportspeople and help them share the gospel with their teammates. We seek to partner with and encourage churches as they do this. The local church is the primary community for making disciples of Jesus and training them in godliness. Our priority is to see sportspeople maturing in Christ in their local church and being supported to shine for him in their local sports clubs and teams.
Getting your church involved
So how do we support churches and how could yours get involved? From the retired golfer to the young sailor, your members may be sportier than you think! The first step is to find out who in your church plays sport. We provide a survey and vision-casting tools for you to help them see the mission field they're already a part of. A simple way to support each other could be an informal monthly prayer gathering, or even a WhatsApp group to share prayer requests.
You might then think about training sessions to help you live out and share the gospel in sport as well as hosting quizzes, tournaments and big-screen events to invite teammates to. Our website has training and evangelism packages which contain all you need. Our staff can provide full support and Christians in Sport speakers are available upon request for both training and guest events.
The Open
One example of the many churches doing this is Carnoustie Baptist Church. Their pastor contacted us two years ago as The Open golf tournament, which was taking place in 2018, prompted him to consider how they were reaching their local sporting community, especially golfers. One of our Scotland staff helped the church to devise a strategy.
They hosted bi-monthly youth dodgeball tournaments, supported by Christians in Sport speakers and resources. From these, seven teenage boys attended a fortnightly 'Sports and Crosses' Bible study, which was supported financially by six local churches. In May, we helped them stage a town-wide sports quiz for 50 people, including 25 guests. Then, in June the church hosted a golf dinner where former US Open champion Alison Nicholas shared her testimony and one woman brought 11 non-Christian friends along ahead of her baptism the next day.
We realise that no two churches are the same, but we would love to help you think through what sports mission might look like in your context.
Sarah Righetti is Church Relations and Events Administrator for Christians in Sport
To find out more about our resources for churches, visit christiansinsport.org.uk/engage