Standing up for Jesus
This month Christian Concern celebrates ten years of ministry and support of Christians under fire in the public arena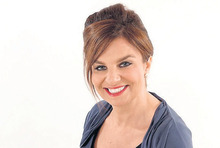 Here we interview Andrea Minichiello Williams, co-founder and present CEO of the work.
en: Tell us briefly what prompted you to start the work.
AW: I first heard about Jesus at Sunday school, and responded to his call as a little girl. From then on, I longed to serve him and wanted others to know him.
I also developed a strong desire to become a lawyer. Looking back, I believe this came from God. I was passionate about the beauty and importance of justice, and of helping those in need. After practising as a criminal and family barrister for a few years, I started to work for the Lawyers' Christian Fellowship. Initially, I helped to develop the student work. I was passionate about evangelism and seeing Christian law students discipled.
But I became increasingly aware of the growing challenges in public policy. Our law and policy was moving away from Christian principles. I saw the impact both on Christian freedoms and on society's wellbeing. I was moved both by the need of those who suffered and by the challenge to God's truth, justice and righteousness. So I pioneered the public policy work within the Lawyers' Christian Fellowship. And then, as the volume of that work grew, we set up Christian Concern and the Christian Legal Centre and they became independent of the Lawyers' Christian Fellowship.
en: What do you look back on as, under God, Christian Concern's most memorable successes?
AW: It's certainly hard to pinpoint just one! It's not just about front-page newspaper stories. Every time that we help someone keep their job after an unfair disciplinary process, or when we can keep a Christian family together in the face of challenge from the authorities, I count it as a memorable success. Much of our work is behind the scenes so we can't broadcast it all.
I never forget that our work is about helping real people, in real situations – often when they feel very vulnerable and don't have anywhere else to turn. It's such a privilege to walk with them through that, and to see their faith grow as a result.
I also count it as a wonderful success when I see young people from our Wilberforce Academy growing up with a boldness and clarity to serve God in their vocations, or to get involved in law, or media, or campaigning in a new way.
There are, of course, more public things. One that sticks in the mind is free speech protection we campaigned for at the time of the Religious Hatred Bill in 2006. It was before Christian Concern formally started, but it helped to catalyse Christian Concern's creation and set the course for what came. It was the first campaign that I had really been thrust into leading. We worked hard to alert churches to the threat to gospel preaching and we tried to speak to every MP that we could to persuade them to amend the Bill. Hundreds of Christians gathered outside Parliament and sang. I don't think Parliament had experienced anything quite like it! Tony Blair left the chamber minutes before the vote, thinking it was safe to do so. If he'd have stayed and voted, we'd have lost. We won by one vote – praise God!
en: Do you see things getting better or worse in society generally?
AW: The current situation reminds me of Isaiah 59.14: 'So justice is driven back, and righteousness stands at a distance; truth has stumbled in the streets, honesty cannot enter.'
What we are seeing now is part of a trend that has characterised the last few decades – of a society turning its back on God's good pattern for life. I can't promise that this tide will turn soon. But we have a hope that sustains us, and we must continue to testify to the truth, and let the light of the gospel shine. As we look back in the history of our country and our continent, we see that the gospel has turned societies around many times before. God is good and powerful, and together we must keep going!
en: In hindsight is there anything you would do differently? Some readers are uncomfortable with your apparent close connection with the Daily Mail. Are they the only secular national newspaper that show an interest in your stories?
AW: No, they're not the only ones! We speak to journalists from many papers and broadcasters. We try to get the message out far and wide. Exposing what is happening is often the first step to bringing change.
Wherever we can we try to speak of Jesus and the reason for the hope that we have – although sadly that sometimes gets edited out! After all, we don't control what people choose to print or broadcast. But we always seek to be faithful.
Some publications, such as The Sunday Times, the Telegraph and The Mail on Sunday seem more interested than others in the issues we raise. We tend to work with whoever is interested and we also frequently appear on TV and radio.
The work we do requires great wisdom (and we so value your prayers for this!) We always try to honour God and be a faithful witness. Of course, we aren't perfect – we are all flawed. And we want to learn and improve. Hindsight is a wonderful thing, of course, but we can't spend too long wishing we could have done things differently or we risk never moving forward.
en: How does promoting specific discrimination cases in the media help bring about a successful conclusion for the individual?
AW: We take decisions about media coverage very carefully and in consultation with the individuals involved. Many of our cases never reach this stage because we work hard behind the scenes to help people resolve things. But sometimes the situation has reached an impasse, or there seems no realistic prospect of seeing justice done through those channels.
Where we believe that greater public scrutiny will help, we may tell the media what is happening. Media coverage and the public attention it brings has often helped cases to move forward and see people reinstated, for example.
It is also about seeing the bigger picture. As the story of William Wilberforce reminds us, we must often confront society with the reality of what is happening and expose the darkness before there is much appetite for change. Telling the stories of how Christians have suffered gets society talking. Our cases have been discussed by parliamentarians and debated in law text books – they get people talking about the issues.
So, although our primary aim is to achieve a successful outcome for those we help, it's also important to expose the heart of the problem that exists within our society – our rejection of God.
en: You were battling cancer while leading Christian Concern and at the same time raising a family. How do you find the strength and juggle the time?
AW: God sustains me day by day, and I can certainly testify that his power is made perfect in weakness. My family is a wonderful blessing. Of course, it comes at a cost but they are very supportive, and very much part of this ministry. I praise God that he brought me through a gruelling cancer battle. But even in the midst of that battle, the state of our society actually weighed heavier on my heart than the cancer.
en: How can readers be praying for you?
AW: Thank you! We're so grateful for your support and prayers.
Things move quickly in this work, so the best way to stay up to date with prayer points is to sign up for our weekly email newsletter (www.christianconcern.com/signup) or to follow our feed on PrayerMate.
Please give thanks to God with us for his remarkable provision and protection for us over these last ten years. I am astounded by his grace and kindness. And please pray for great wisdom for the next ten – we are very conscious that our work needs to 'step up to the next level' as society continues to change so fast. So please pray for new ideas and initiatives that we are planning to launch.