Jesus for Jewish people
With anti-Semitism on the rise, Christian Witness to Israel reminds us of their work
Christian Witness to Israel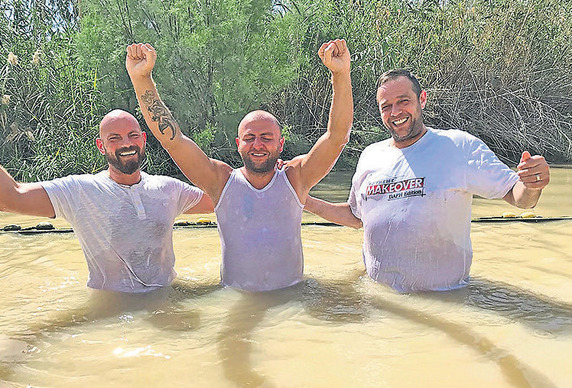 Kyle was a homeless Jewish drug addict.
When he approached Christian Witness to Israel (CWI) missionary, Igal Vender, asking for money on a street in Tel Aviv, Igal told him he had good news to share and invited Kyle for a meal at a local café. Neither imagined where it would lead…
Kyle wanted to know why Igal would want to help a homeless man like him. Igal explained that it was because of 'the One who lives in me and who transformed my own life – Jesus!' Igal shared his testimony with Kyle before they opened the Scriptures and ate together. Kyle listened carefully to what Igal was saying before Igal prayed for him and they went their separate ways.
Committed to prayer
Igal and his wife Milana committed to praying regularly for Kyle, not knowing if Igal would ever see him again. However, two weeks later, as Igal was walking down the street, a man approached him to ask how he was – it was Kyle.
This time round Kyle opened up about his own life. As a 41-year-old Russian Jewish divorcee, he'd emigrated to Israel 15 years ago. In Russia he had a responsible job as an engineer, but when he arrived in Israel the only job he could get as a non-Hebrew speaking immigrant was sweeping the streets. His failure to find a good job led to depression and he turned to drink. When his wife divorced him eight years ago, he began living on the streets. At this point in his life he stopped drinking, but instead turned to hard drugs and had spent three years in prison. Kyle opened up, weeping as he recounted his life story. Igal hugged him and spoke to him of God's love and how Jesus could transform his life.
Something different
Kyle told Igal that normally he didn't trust people, but when we first met Igal he could sense there was something different about him. He said that when Igal prayed, he was overwhelmed by a sense of peace – something he had not felt for a very long time. Igal offered him a place at the rehab centre where he himself volunteers and Kyle gratefully accepted the invitation.
A month later they were studying the book of Ephesians together at the rehab centre. As they finished Kyle approached Igal, and declared that he believed Jesus had died for his sins and told Igal he wanted to repent and turn to Jesus. Together they prayed as the other men in the rehab centre watched.
Around the same time, two other men in the rehab centre also professed faith in Jesus. Over the months that followed, Kyle, Cyril and Greg grew in their faith as they studied the Scriptures together and served others in the centre as well as the congregation they attended. They joined Igal on the streets of Tel Aviv, reaching out to other homeless people and addicts, sharing the good news of Jesus and testifying to the way he had transformed their lives.
Six months after Kyle first approached Igal, all three travelled to the River Jordan and, in the same location where John the Baptist was baptising Jewish people 2,000 years ago, they were baptised themselves!
Igal's story
For CWI missionary Igal, this was the culmination of a journey which began when he was born into a Jewish family in Ukraine. In 1988, his family emigrated to Israel. Igal couldn't speak Hebrew and his classmates didn't accept him because of it. One day after a fight with another boy, Igal stole money from his coat. From that pivotal moment on his life went rapidly downhill. At the age of ten he began working as a drugs and weapons runner for a local drug dealer.
One day Igal found himself caught in the crossfire of a gun battle. He wanted to run but found he couldn't. In terror, Igal recited the Shema: 'Hear, O Israel: The LORD our God, the LORD is one!' He fell to the ground and, when he opened his eyes, he found himself under a large tree where, incredibly, Igal recalls seeing seven white figures standing in the branches. Confused by what he had seen, the following day Igal visited the neighbourhood rabbi to ask his advice. The rabbi told him that the seven figures were the serving angels of God who were watching over him.
Untouchable?
Igal mistakenly took this to mean that he was untouchable and his life continued on a downward spiral.
Igal then began to smoke cannabis before moving on to harder drugs such as cocaine and heroin. For the next 18 years, Igal was addicted to drugs and spent time in and out of prison. Igal thought he had everything he wanted – money, drugs and women – and believed that the fact that he possessed those things in abundance were evidence of God's approval of his lifestyle. But, inside, he was empty.
On one occasion, shortly after Igal had been released from prison, a friend with whom Igal used to steal and take drugs told him about Jesus. His friend had clearly changed and he seemed to have the peace that was missing from Igal's own life. Six months later, Igal received an exclusion order from the police and had to leave the town where he was living. Igal remembered what his friend had told him about Jesus, so he decided to call him. The friend invited Igal to attend a rehabilitation centre in Haifa. Within two weeks of his arrival at the centre, Igal had turned to Jesus in repentance and faith.
Igal found in Jesus what he had been looking for his whole life. Over time, the Lord restored Igal and gave him the desire to share the good news about Jesus with those around him. After ten years of being a believer and much prayer, Igal responded to the call to take the gospel to Jewish people, and reach out to them with the good news of their Messiah.
In 2015, Igal became a full-time missionary for Christian Witness for Israel, a ministry which exists solely to tell Jewish people about Jesus and see them come to faith in him. He has a fruitful ministry in Israel, sharing Jesus with Jewish people, especially the homeless and addicts, and he has seen many turn to the Saviour.
Jewish mission – is it optional?
From 1842 to the present day, CWI have been sharing Jesus with Jewish people wherever they are found, discipling new believers and offering love and practical support. Jewish mission is a vital part of world mission, but unfortunately it is not an area of ministry at the forefront of the church's agenda. Historically, this has not been always been the case. CWI was established 175 years ago, when the church in Scotland and London acknowledged that Jewish people needed to hear about Jesus and turn to him. That need remains today, but in the past three years, as CWI has focused solely on Jewish evangelism, there has been a marked increase in the number of Jewish people meeting the Messiah.
Today various issues cloud the clear biblical call to Jewish mission, whether it be rising anti-Semitism, conflicting political or eschatological views, or simply indifference. Reaching out to Jewish people may not be on the agenda of many churches, but as CWI's CEO Joseph Steinberg says simply:'The Bible says we should take the gospel to all people – including Jewish people and that really should settle it! There is no option in the Bible for us to treat the Jewish people as the great omission in the Great Commission.'
Joseph continues: 'Jesus said to a group of Jewish people in the land of Israel, "I am the way, the truth and the life. No one comes to the Father except through me." Only Jesus saves – and only Jesus can save Jewish people. Therefore, we must remain committed to bringing Jesus back to my people who brought him to the world and who still desperately need him today. Jesus is saving Jewish people today, but we need the church to stand with us in order to sow more gospel seed and see more Jewish people saved.'
If you would like a missionary speaker, like Igal, to visit your church please email CWI at info@cwi.org.uk . For further information on the work of CWI or to sign up for their bi-monthly Herald magazine, filled with reports of God at work among Jewish people today, visit www.cwi.org.uk