What was Jesus thinking?
Have you ever wondered if there are other explanations for who Jesus is, other than God?
Dr Zena Schofield,

part-time Consultant Psychiatrist in the NHS and part-time at Beeston Free Church, Nottingham, as the Biblical Counselling Co-ordinator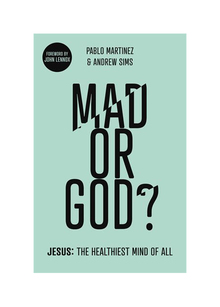 MAD OR GOD?
Jesus: the healthiest mind of all
By Pablo Martinez & Andrew Sims
IVP. 173 pages. £9.99
ISBN 978 1 783 596 058
Have you had friends suggest to you other explanations? In their book, Mad or God, Dr Martinez and Dr Sims set out to address the suggestion some put forward that Jesus was mentally ill, one option in the 'trilemma' that has been suggested – that Jesus must be either mentally ill (mad), or a liar (bad), or God. It seems to have been written with the intention of being an evangelistic book exploring this specific argument around who Christ is.
Argument and Scripture
Dr Martinez and Dr Sims beautifully weave accounts from the four Gospels into their arguments, so as to explore the character, claims, lifestyle, ministry and message of Christ. The reader is at the same time led through a structured exploration of whether there is any psychiatric evidence of a mental illness in Jesus. Martinez and Sims' personal relationships with Jesus result in descriptions of the person of Christ as seen in the Bible. And their years of experience as psychiatrists mean they are able to describe eloquently, in broad categories, common mental illnesses, the symptoms of such illnesses and then evaluate any evidence found in the Gospels. Along with the impact on countless believers over the last 2,000 years, they demonstrate that, medically speaking, Jesus was not mentally ill. The final chapter encourages the reader to consider the question Jesus posed to his disciples: 'Who do you say I am?'. On p.159 we read: 'We now come to a point when it is not we ourselves who "evaluate" Jesus anymore, but Jesus himself is the one who interrogates us with his compelling question.'
I was delighted to read the authors' acknowledgment that ultimately what matters is how Jesus sees each one of us. The personal touches within the book, including snippets of their walks with the Lord and stories about people experiencing symptoms of mental illness, add a depth and genuineness to the book.
What would my colleagues think?
However, I was left wondering if my colleagues in mental health services who are not believers would read this book, and whether it might be too long. I wonder if the role of this book might be apologetic, equipping Christians to engage in discussions with their friends who are not believers. I was concerned for those who have experienced a mental illness themselves, how they might feel when, in the early chapters of the book, the authors repeatedly use terms like 'mad', 'crazy', 'insane'. Although I accept that these words needed to be used and explained in the first chapter, then it might be more loving towards those who experience mental illness to actively choose the term 'mental illness' throughout the remainder of the book rather than these stigmatising words. This would serve to educate those within churches who don't have personal experience of mental illness about how to talk in less stigmatising and more loving ways to and about those who have experienced a mental illness.
Pastoral encouragements
Some observations were made that were encouraging from a pastoral care perspective. For example, Martinez and Sims write about how our relationship with God impacts on our relationship with others (p.144). However, there were other examples where I felt the lens of psychiatry and secular psychological models focussing on the Bible diminished the true supernatural event that was being recounted. For example, the authors write about the events after Peter has denied Jesus (p.144) and then Jesus forgives Peter and reinstates him. They describe this process as Cognitive Behavioural Therapy, whereas I would see it as divine forgiveness freely given by our gracious and merciful Saviour purely dependant on his death and resurrection, received by Peter through faith. Cognitive Behavioural Therapy (CBT) is at its root about 'self-talk' – using our own thoughts to argue against our own unhelpful thinking, actions and behaviours. By definition, CBT is about a person fixing their own problems, whereas true repentance and forgiveness (as illustrated with Peter) is about coming to our Saviour and acknowledging that we can't fix our problems; only he can. Having said this, such points are minor in the book and do not distract from the overall message that Jesus of Nazareth was not mentally ill, but was and is the promised Christ, the rescuer we all need and the one we will all stand before on Judgment Day.