Believing in Barrow
A new Cumbrian church plant is giving thanks for six months of life and looking ahead to God's provision as they face the future…
Robin Ham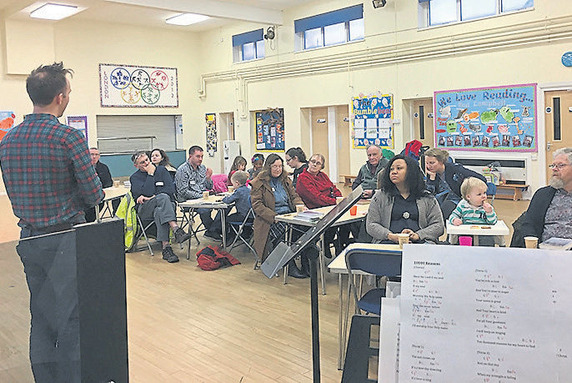 The joke is often made that Barrow-in-Furness is at the end of the longest cul-de-sac in the country!
With a population of 70,000 it is the second-largest urban area in Cumbria, but is located at the end of the Furness peninsula. For those who've experienced the 45-minute drive down the A590 from the M6 turn-off, there's more than a hint of truth to this joke!
Our first time making the journey was back in November 2014, part of a seemingly epic trek from north London, where we were training for ministry at Oak Hill College. Even in the space of a weekend the town made an impression on us: the strong sense of Barrovian identity, the stunning beach vistas looking north up the west Cumbrian coastline, not to mention the huge looming hulk of the Devonshire Dock Hall at the centre of the town's shipyard.
Barrow has historically been synonymous with ship-building, although for the last 50 years the trade has shifted slightly to constructing nuclear submarines for the Royal Navy. And, while employment hasn't yet returned to the heights of the Cold War years, the government recently confirmed over 20 years' worth of work for the Barrow-based BAE Systems' maritime division. Following on from the Astute class of nuclear-deterrent subs, the Barrow workforce are already designing and cutting steel on the forthcoming Dreadnought class of nuclear-armed subs, replacing the current Trident-carrying Vanguard fleet. A sense of guarded optimism prevails in the town, often in sharp contrast with the crippling unemployment many faced in the late 1990s. Associated maritime industries, a Kimberley Clark plant, and a growing energy-generation hub (including one of the world's largest offshore wind farms) all mean that the local economy is healthy.
Needs and opportunities
But what of the spiritual 'economy'? While the proportion of Cumbria's population who would identify as Christian is much higher than the national average, the proportion who attend church is similar to national levels and, more strikingly, the age of those attending is typically much older. Consequently, back in March 2015 the FIEC highlighted Barrow on their 'Go Into' prayer cards, being one of 50 places where, relative to population size, they felt there was little or no gospel witness. One of the specific prayer requests listed for Barrow was that by 2020 there might be a new church planted in the town.
As it happened, our trip to the Furness peninsula just a few months earlier had left us feeling something of that gospel need. We'd been put in touch with others ministering in Barrow, and an opportunity had arisen to explore planting a new church in an unchurched area of the town, as part of a Pioneer Curacy with the Church of England. It was therefore very timely to be handed one of the FIEC's cards and know that people would be praying for what, under God, we were seeking to be part of too.
Bedding in, looking out
Although Barrow wouldn't technically count as a 'small town', its remote location means it shares many of the characteristics associated with somewhere smaller. Locals describe it as a 'big village', and there is a strong sense of independence and local loyalty.
All in all, moving to a town has been a very different experience to moving to a city. We've needed to 'bed in' and work with the grain of community life, rather than arriving with preset plans. Likewise, it's been important to get to know the people who have been serving God here much longer than we have. In particular, two town-wide evangelistic missions in the last three years, both called Believe in Barrow (one with evangelist Roger Simpson in 2015 and the other with Jonathan Carswell in 2017) have given some believers a boost in gospel confidence.
Planting the gospel
Much church-planting in the UK tends to follow the model of a mother-church sending out a group to form the core of a new congregation. But what happens when there aren't churches in the vicinity who can send ready-made core teams? Given the size and age profile of most churches in the town, we realised any new church would likely be planted with more of a pioneer model. In the first couple of years we found it helpful to think of our aims as simply being to 'plant the gospel' and to see what happened.
Part of this was just getting to know people, including gathering to pray with local believers who lived in the area we were seeking to serve. After a year we started running a family-friendly Sunday gathering every few weeks, with a kind of Christianity-Explored-with-kids-group-and-some-food feel to it, as well as a midweek group where a few of the more committed Christians would meet to pray and read the Bible. Wonderfully, a local primary school let us rent their premises on Sunday afternoons, and we tried to create a family-friendly space where people – in particular unchurched folk – could explore why Christianity is good news.
Grace Church Barrow
After two years we felt it was right to launch Grace Church Barrow. That was last October, and we've just celebrated six months of life as a church. Church-planting can sometimes be portrayed as glamorous, but I've found it's much more like being a new parent: every month feels like a huge milestone and the rollercoaster of the week-by-week often seems overwhelming. In our first term we were averaging about 17 faces on a Sunday, and we saw that increase to 22 last term, but the first Sunday after we celebrated six months was our lowest Sunday attendance for about five months!
It's hard not to be envious of plants that start with larger teams, often resembling 'lean, mean, gospel machines', and we recognise that the pioneer model is generally considered 'high-risk', but on the other hand the reality often feels like it's this or nothing.
Recently Paul Baxendale, pastor at Parr Street Church, Kendal, came and preached at Grace Church from 1 Timothy 3. He challenged us to keep our eyes on whether there'd still be a church here in ten years time. On one level, it feels like 'who knows?'! But of course what we do know is that, if there is, it will be down to God. And even if he doesn't give us the growth to be viable, the opportunities we've already had to sow the gospel into people's lives help us see that nothing is wasted.
Praying for partners
In all this we're very aware that the 'harvest is plentiful but the workers are few'. Just a handful of 'partners' gripped by the gospel would make a huge difference to the viability of Grace Church Barrow going forward.
Maybe you know someone moving to work for BAE, or someone who is already based in South Cumbria and might be interested in playing a part? Or maybe you'd consider spending a few years in Barrow, working at the hospital or one of the many local schools?
Don't get me wrong, despite the geography, there are plenty of delights. Along with nearby beaches and the picturesque banks of Windermere just half an hour's drive away, there's the down-to-earth character of the place, and a pace of life and sense of family values that sees many Barrow-born graduates return to their home town. And we've lost count of the number of people who have told us they moved here 'for a couple of years' and are still here decades later. But more than all that, we'd love to hear from people who have a gospel heart and see the missional need. Could you be part of seeing others believe in Barrow?
Robin Ham helps lead Grace Church Barrow, and is married to Zoe.
Please get in touch – or even if you'd just like to pray and support the work – robinpeterham@gmail.com or 07828 333 106
Grace Church Barrow is part of the North-West Partnership gracechurchbarrow.co.uk