Who's stopping persecuted Christians entering Britain?
In response to a Freedom of Information request from Barnabas Fund (BF), the UK Home Office released figures on Syrian refugees resettled in the UK for the first quarter of 2018.
Barnabas Fund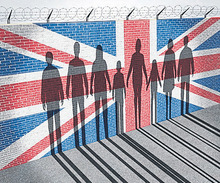 The UN High Commission for Refugees (UNHCR) recommended 1,358 Syrian refugees for resettlement in the UK of which only four were Christians, representing a tiny fraction of just 0.29%. The Home Office agreed to resettle 1,112 of these (82%), all of whom were Muslims, and refused all recommendations of Christians for resettlement.