Mass church closure
More than 8,000 churches in Rwanda have been closed by the government after they failed to meet requirements laid down earlier this year, it was revealed in July.
World Watch Monitor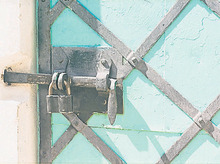 en previously reported that 700 churches had their activities suspended on 1 March, as a result of the restrictive new law.
A government official said: 'Churches are expected to meet basic requirements in terms of safety, hygiene, infrastructure and legality'.
In one village the church was closed while a wedding was ongoing. The couple and all the guests were simply told to leave the building during the service, and the church was closed.
Another church was stopped from having services, and other mid-week meetings in a school hall as an alternative, after all the churches in that parish had been closed. The church had timber instead of a metal door and window frames, and was told the roof also needed to be elevated 'just a little'.
Many see the closures as part of an effort by the government to make its aggressive secular stance clear.
According to a report by pro-government press, more than 8,000 churches have been closed.
'On checking which churches were included, we learned that all churches are suffering the same fate, and that even churches considered luxurious by local standards have had to close,' a local analyst said.
Clamp down
'It seems that the local authorities in the different districts initially had some freedom about the degree to which they could enforce the new requirements,' the local analyst said.
'However, it now seems that those who were more lenient have been rebuked and have become stricter. In one district, authorities banned all meetings of a closed church and congregants are not even allowed to meet in home groups.'
One congregation now meets in a church building in another neighbourhood. Another congregation's members walk 20km to attend church in a neighbouring community after their church was closed.
Many new requirements not originally in the directive have now been added, including regulations about toilets, ceilings and lightning conductors.
Also, all pastors now need to have a theological degree from an accredited institute.
This law is being enforced even though it has not yet been approved officially. In most cases it is almost impossible for churches to make the required changes within the given time-frame of 15 days.