Connecting the isolated
A viewer survey in July by Christian satellite TV channel SAT-7 produced hundreds of viewer testimonies, showing that SAT-7 is changing perceptions towards Christianity and is providing valuable support for believers across the Middle East and North Africa.
SAT-7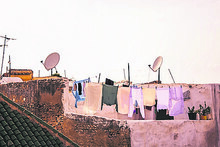 Over 5,000 people responded to the survey, which was promoted on social media. Viewers rated SAT-7 highly on almost all criteria including image, sound, and content quality. SAT-7 says that the viewer testimonies are 'compelling evidence that SAT-7 is succeeding in its mission of making God's love visible in the Middle East and North Africa'.