New church for Huntingdon
Huntingdon is a market town about 20 miles to the north-west of Cambridge with a population of about 24,000. Being situated where the River Great Ouse meets the Roman Ermine Street (from London to York), Huntingdon has always been situated on a crossroads.
Jon Gilbert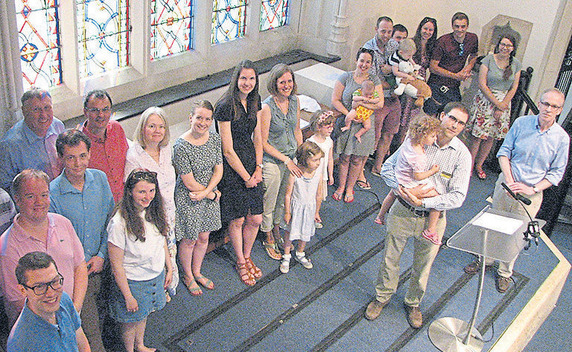 Although there are a number of small churches from various denominations, the rapidly growing population of Huntingdon and the surrounding area means that there is a huge need to proclaim the good news of Jesus' salvation to the many who currently have no church connection.
So, two years ago, the Diocese of Ely approached St Andrew the Great (StAG) and asked them to consider planting in Huntingdon under a Bishop's Mission Order, a new form of Church of England plant which sits alongside the existing parish system. StAG has a recent history of church planting (this will be the fourth). With the tag-line 'The gospel to Cambridge, gospel workers to the world', the church was keen to undertake and support this project, despite the financial and people costs. It will be led by Charlie Newcombe, who has been Associate Vicar at StAG for the last four years, and the church will launch publicly, God willing, on Sunday 16 September 2018.
Preparing the way
Since those first discussions there have been both highs and lows on the journey. However, even at this stage we can look back through the whole process and see God's faithful hand at work.
Once it had been established that we were going to explore this opportunity, a small group of people started to meet monthly to talk, get to know one another and, most importantly, to pray. Over the last two years these meetings have been such an encouragement, as numbers have grown and prayers have been answered again and again: wisdom in determining our specific vision and values (it's all in the name – Christ Church Huntingdon); provision of a school building for us to meet in on a Sunday; a potential base for mid-week ministry; promising relationships with a wide range of people in surrounding neighbourhoods.
Another great encouragement is seeing the way in which we are the body of Christ, each one unique, from different backgrounds (currently, the 28 committed members are from six different churches in the region and include a converted Muslim, a fork-lift truck driver and some Cambridge commuters). Each has individual gifts, but all are needed for the church body to function effectively for the gospel. The gift survey that we carried out clearly demonstrated how God has blessed us with a group of people with skills ranging from music, children's work and preaching, to admin, catering and technological expertise.
Opposition from Anglicans
Of course, it has not all been straightforward and there has been some opposition to Christ Church Huntingdon, particularly from some local Anglicans who have questioned the reason for us going to the town. Despite this, we truly believe that everybody should have the opportunity to hear the wonderful news of Jesus' rescue and we have clearly seen God preparing the way for another work in Huntingdon.
'We trust in thee'
On Sunday 8 July the time came for the commissioning of Christ Church Huntingdon. For many this would be a day of mixed emotions. Alongside the excitement of setting out on this new adventure and stepping out in faith that God will do great things through the proclamation of his Word, there were also feelings of sadness for those leaving the church family where they had been loved, nurtured and trained over the years, and of trepidation for those from other churches who are also leaving their previous church families. And so, with the words of Romans 10.14-15 set as a challenge and encouragement before us by Alasdair Paine, StAG's vicar, and with the words of the great missional hymn 'We trust in thee' ringing in our ears, we set out on this great adventure believing that God's Word is powerful to save and that it will not return to him empty. Please pray for us in this endeavour that many in this 'crossroads town' would find a path to life through the message of Jesus' death.