Mission field of the workplace
Wes Illingsworth asks William Taylor about the new 'Questions for Life' mission
William Taylor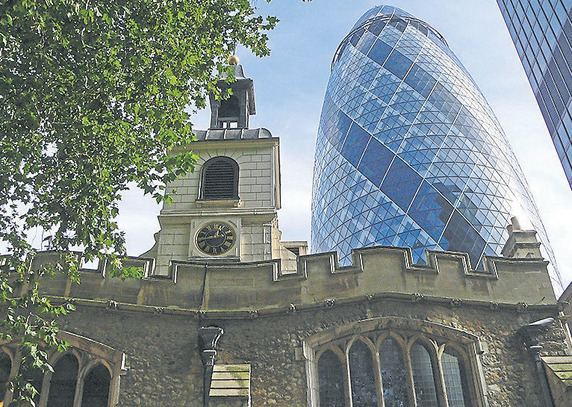 In March 2018, 'Gospel at Work' Lunchtime Talks networks made a special effort to take Christ's answers to life's biggest questions into their workplaces.
Wes Illingsworth interviewed William Taylor on behalf of en.
en: Why do you think that the workplace is such an important mission field?
WT: The workplace is where most working Christians have the majority of their relationships with non-Christian people.
Over the last ten years I have conducted training in personal evangelism with several hundred working men and women. One exercise we do involves drawing up a list of our personal mission field. We fill in a table with the names of people we know who are not Christian. The table has five columns – neighbours, family, church, leisure, work. The results for most workers are the same: neighbours – a small handful, sometimes blank; family – several; church – one or two; leisure – a small single figure number, often blank. Names in the work column almost always extend into double figures. The lesson is not hard to spot. Work fills over 50% of the average worker's waking week. The workplace is an important mission field because that's where we know people and where we are known.
Similarly, office blocks, hospitals, business parks, schools, etc. are great places for Christians to work together to make Jesus' message public. Lunchtime talks in central London* and various workplace Christian groups are a good start, but wouldn't it be wonderful to see the gospel held out more and more in the 'public square'.
en: Aren't we at work to work? Aren't we dishonouring our bosses by trying to evangelise people in the workplace?
WT: We are certainly at work to work. The Christian employee ought, always, to be a huge asset: we are ready to do as we are told; we are not 'people pleasers'; nor do we work hard only when we are being watched.
We work heartily 'as unto the Lord' (Colossians 3.22-23). But our primary master is the Lord Jesus and we are Christians before we are anything else. As a Christian, the Lord Jesus has commanded me to make disciples (Matthew 28.18-20) and he has made me into a royal priest whose key responsibility is to proclaim the excellence of him who called me out of darkness and into his marvellous light (1 Peter 2.9).
Thus, overriding every other concern in our workplace will be the godly and prayer-ful desire that those amongst whom we work come to salvation. This requires that I verbalise the gospel to those around me.
en: Isn't it enough just to work in a godly way and be a witness through our conduct at work?
WT: No. The word 'gospel' means 'announcement'. I cannot be a 'gospel person', or involved in 'gospel work' in the workplace without actually speaking about Jesus.
I am not suggesting that we stand on the desk and shout out the gospel, or that we deliberately seek to be objectionable. We need to speak gently and respectfully. However, Jesus also tells us that we are not to fear men, but God. And in his sovereignty the Lord Jesus has placed us amongst the particular people alongside whom we work.
So as we seek to speak to people about all sorts of other things – the garden, the weather, the children, the football club, the latest Netflix series – so we should seek to speak of Jesus. Of course our godly behaviour matters; it will either adorn what we say, or undermine what we say.
en: Aren't we going to get into trouble at work if we speak openly about Jesus there?
WT: It may well be that even when we are sensitive in sharing the gospel at work someone might take exception and complain.
However, we have found that many HR departments are increasingly open to 'diversity' and therefore to Christians speaking or organising meetings for the gospel to be presented. They recognise that if they allow the LGBT group and other groups to make their activities known, it would be discrimination not to allow Christians to speak.
en: By encouraging Christians to devote so much time to ministry in the workplace, aren't you going to damage the work of the local church?
WT: No. In fact, the reverse is true. The local church should equip its members to live effective Christian lives wherever they worship God 24/7.
It is a great thing when church leaders see they have a major responsibility to equip and deploy people as informal missionaries in their workplace, even when that workplace is beyond the geographical locality of the church. If they do not do this, church leaders will end up, in effect, running 'church' structures largely for stay-at-home carers, retirees and children.
Indeed, if I were serving in a church where large numbers commute out of the area for work each week-day then I would think just as much about employing staff to work with these commuters as with the children, youth and women. Our observation at St Helen's is that as a person begins to see the whole of life as their sphere of ministry it makes them far more effective back home, amongst their families, neighbours, and in the local church.
en: From your perspective what are particularly effective ways to hold out Jesus' message at work?
WT: The most effective men and women have always been those who set aside time to pray for their colleagues, e.g. one morning or lunchtime per week to pray for an hour for colleagues. Many also have partners supporting them in prayer at home and in their local church.
Preparation and planning are also key. I need to know the gospel, be practised in how to share it and think about how I shall go about making relationships with colleagues. I know one or two who set aside two half-hour slots every week to take someone out for a coffee with no agenda other than simply to get to know them. Over the course of time, conversations turn to the gospel as we take an interest in our colleagues.
en: You were involved in the 'Questions for Life' mission to the workplaces in Central London. What happened?
WT: In the run-up to Easter, individual Christian workers, workplace Christian groups and lunchtime talks made a concerted effort to give thousands of workers across Central London the opportunity to hear about Jesus Christ.
It was the first time something coordinated like this has happened and we pray it will continue. We are particularly thankful for Christian workers who held small-scale 'dialogue' lunches or dinners tailored for their colleagues.
These events included a short presentation of the Christian message, perhaps a testimony, followed by plenty of time for guests to ask questions. About 40 of these events happened in the meeting rooms of pubs and offices around us. For lots this was the first time they'd put on something like this, and many commented on how struck they were by the level of interest of their colleagues.
Since 'Questions for Life', we have found a significant increase in non-Christians being brought to our lunchtime services by Christian disciples who are reading one-to-one with them and using the lunchtime talks as part of their follow-up.
But the really big thing that happened was a broadening of the 'base' of people involved in personal evangelism in the workplace. My observation of the evangelism in many churches in the South East is that we rely heavily on 'events', without the essential 'base' of multiple individual Christians engaged in personal evangelism.
This 'top-heavy' approach places far too much weight on the speaker at the event, it encourages us to rely on other methods, or gimmicks, rather than a clear gospel presentation, and it is in danger of undermining the key ministry of individual disciples in their own mission fields.
William Taylor is the rector of St Helen's Church, Bishopsgate, London.
*www.gospelatwork.org.uk