The Living Out conference
The Identity in Christ conference hosted by Living Out on 21 June in London's Emmanuel Centre, was attended by around 600 people who heard Dr Tim and Kathy Keller engage with complex issues of gender and sexual identity.
Michael Shaw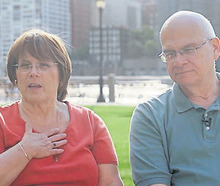 In the first two sessions of the day, Dr Keller outlined two key questions: firstly, where do we derive our sense of 'self'?; and secondly, where do we get our sense of worth? In today's postmodern culture, the individual is encouraged to completely disregard external moral values and instead embrace only 'what's true for me' – finding one's identity only in one's own values.