Keller at Westminster
On 19 June, 170 Members of Parliament , including the Prime Minister, came together for breakfast, prayer and a very clear address from Dr Tim Keller.
John Ross / The Christian Institute /

www.nationalprayerbreakfast.org.uk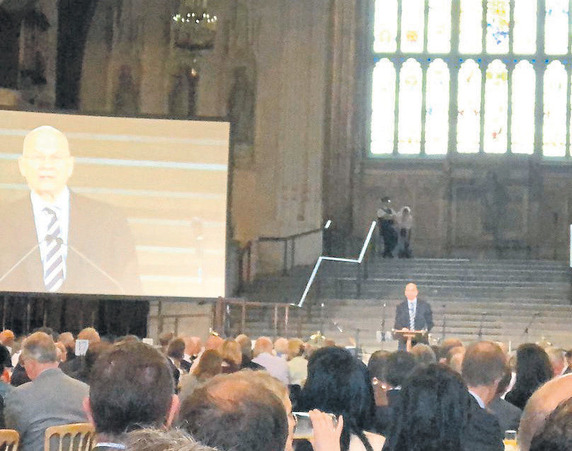 About 300 leaders of churches and Christian organisations also attended alongside Black Rod and the Speaker. Christian leaders were encouraged to invite their own MP to the breakfast. Ian Blackford MP, who chaired the event, said it was 'very significant' that the Prime Minister had attended.
Salt of the earth
Keller was asked to speak on 'What can Christianity offer our society in the 21st century?' He looked at Matthew 5.13 and showed what it meant for Christians to be salt in society. Salt both flavours and preserves and Keller's call to followers of Jesus was to remain distinctive, so that they can flavour and preserve. His plea to the leaders of the country was to allow Christians to continue to remain true to their calling to be salt and to let them make their unique contribution to society.
He demonstrated from British history how Christians changed society from a shame culture to a self-sacrificing culture. He showed how those from a shame culture are more concerned for their own honour whereas Christians follow the self-sacrificing model of their Saviour.
Not self-actualisers
He said: 'Christians won't benefit society if they're just like everyone else in society. We're not going to benefit a society filled with self-actualisers unless we really are different, and we do believe Jesus died for us and we live by self-sacrifice.'
He told those present: 'Don't demand that they become like everyone else. Modern society says we believe and respect difference but here's what you should do. Tell Christians to be true to their ideals, but then critique them on those ideals and not someone else's.'
He spoke movingly of the cross and Christ's self-sacrifice. It was thrilling to hear the cross so ably explained to Parliament.
The breakfast also included prayers from various Members of Parliament, and hymns led by Keith and Kristyn Getty and band. Following breakfast, there was a great range of optional seminars, covering topics based on the main theme.
Arranged by Christians in Parliament, an All-Party Parliamentary Group, the principle sponsor was the Bible Society, along with a number of other Christian organisations. This was an early morning to remember.