#metoo
Tim Hein and his wife Priscilla are survivors of childhood sexual abuse.
Dr Ruth Eardley (GP),

attends Little Hill Church, Leicester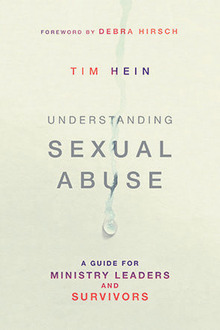 UNDERSTANDING SEXUAL ABUSE:
A guide for ministry leaders and survivors
By Tim Hein
Muddy Pearl. 158 pages. £12
ISBN 978 1 910 012 475
Now a minister and Vice Principal of a Bible College in Adelaide, Australia, Tim has produced this mature and practical guide drawing on his own experience of psychology, counselling and spiritual care. Widely researched and culturally relevant (with illustrations from classical psychiatry, films, novels and pop songs) there is compassion, realism (no quick fixes) and plenty of sanctified commonsense.
Out of our depth?
The setting is very much the local church because, although ministers and pastoral workers may feel out of their depth supporting an abuse survivor, they do have a vital role on the road to recovery.
The tone is sombre but strangely hopeful. There are no shocking details: the statistics are shocking enough. As many as one in four girls and one in six boys experience sexual abuse during childhood.
Hein's observations on the capacity of Christians to compound the awfulness of abuse – through ignorance, superficiality or a desperation to 'fix' everything – are sobering. True Christian friendship is to listen, really listen, and feel the immensity of unspeakable suffering. It is to mourn together, allowing 'worship in a minor key', allowing ourselves to feel useless and powerless without advice or platitudes. His advice on Christian comfort is relevant for all who are hurt, broken or bereaved. Praise God for the psalms of lament.
There is a thoughtful chapter on justice, accountability, anger and the complex issue of forgiveness. Suffering and pain are considered in the context of Christ's agonies and the inevitability of trouble in this life.
The psychological detail may be an issue for some – I can't pretend to understand it all myself – but this is not a straightforward topic and the ramifications are lasting and diverse. Similarly, modern evangelicals may not immediately identify with the consideration of the Christian contemplative tradition, the catharsis of crying and the longing for sanctuary. This is a personal testimony and will resonate with those who have suffered similarly.
Hein's insights are hard-won. This is a timely, courageous and wise book and I am about to post mine to a Christian friend who needs it. We shall have to buy another for the church library.