Are the churches under judgment?
The church generally is in steep decline. Generally, churchgoing has halved since 1980. All kinds of efforts are being made to rectify the situation.
JEB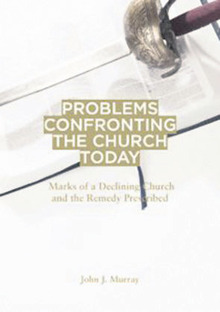 PROBLEMS CONFRONTING THE CHURCH TODAY
Marks of a declining church and the remedy
prescribed
By John J. Murray
Scottish Reformation Society. 73 pages, £4.00
ISBN 978 1 908 727 145
There are new evangelistic courses. There are conferences. There are prayer meetings for revival. But at present God seems to be taking little or no notice.
John J. Murray helpfully gets us to contemplate the possibility that not just the nation but the church is under God's judgment. The church under judgment? It is a question very few seem able to ask in our continual concern to be optimistic and upbeat.
Certainly we find God's people under his judgment in both the Old and New Testaments. Five of the seven churches in the opening chapters of Revelation have elements which displease the Lord. The removal of the candlestick is a distinct possibility. And doesn't that apply just as much today as it did in the first century?
Repentance
There is an outlook which looks upon repentance as something we do at the beginning of our Christian lives but does not have much relevance to the ongoing life of evangelical churches. We are hearing the preaching of the Bible, we are gathering for worship, we are reaching out with the gospel – what would we have to repent of? But could it be that we are grieving the Spirit by our disobedient lifestyles and attitudes both personally and by way of church culture? John J. Murray believes that this is the situation. So we pray for God to pour out his Spirit, but nothing happens. There is a prior necessity of repentance which we are avoiding.
What are our sins? The booklet cites toleration of false doctrine, lack of discipline in the church, rampant ignoring of God's law, especially the Lord's Day, a concern for 'feel good' in church services rather than a concern for the felt presence of the Holy Spirit - and the fact that there is such a low view of the ministry that almost anyone is called to fill the pulpit. There is much more.
This book chimes in deeply with the recent interview 'In Conversation with Stuart Olyott' put out online, which has been viewed and appreciated by many serious Christians. There Stuart makes plain that, for all our activity, he perceives a dramatic lack of true engagement with God, both by individual Christians and leaders. Engagement with God calls him to search our souls and leads to repentance.
You will not agree with everything in this slim volume. But it is well worth reading, meditating on and taking to heart.