Returning to North Korea
The strangest thing happened the other day: I got stuck in a traffic-jam in Pyongyang!
Andrew Dudgeon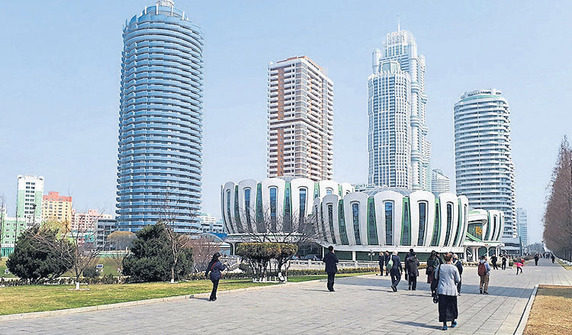 After eight years, it was time to return to North Korea along with a team of wonderful Christian medics from around the world.
Ringing the changes
For a Christian, travels in the country often raise more questions than answers. Add in a complicated round of geo-political talks and it is fair to ask, what is the Lord doing?
What has changed? Aside from the new cars, taxis and electric bikes that now clutter the capital's wide avenues, the sight of solar panels clinging to the side of Pyongyang's many apartment blocks was a indicator of progress.
Lack of grid power makes life difficult. We visited many medical facilities where neither light nor power had been supplied throughout the cold winter and yet the presence of solar panels means that batteries can be charged, radios played and many of Pyongyang's high-rise buildings have at least some dimmed lighting.
Construction in the capital has boomed too. New shops, concert halls and even roller-blade parks mean that sections of Pyongyang are not dissimilar to other East Asian cities.
The real eye-opener however was the presence of smartphones. An estimated four million North Koreans now enjoy mobile communication. There is even (expensive) Internet access, though all communications are heavily monitored.
In need of friends
Scratch the surface, however, and it is clear that most North Koreans still live in appalling conditions. Malnutrition is real, surveillance is suffocating and loyalty to the leadership is absolute. Movement is highly restricted. Unapproved gatherings are prohibited. Unsurprisingly, we passed town after town with no churches in any of them.
There are at least 100,000 registered tuberculosis cases. It is one of the most prevalent diseases in the North. It spreads in conditions of poverty and famine, but there are few resources for effective diagnosis, treatment and follow-up. We went to monitor help provided to TB hospitals over many years.
This is a country in need of friends. Heavy sanctions are bringing it to its knees. Food and medical relief are not supposed to be affected by sanctions, but the reality is very different. No metal, not even nail-clippers, can be imported into North Korea, let alone critical laboratory equipment, medical vehicles or vegetable seeds that were all needed to help curb the spread of tuberculosis.
Ordinary lives
The fields were dotted with elderly women, their faces sweaty and weather-beaten as they laboured to plant their precious rice. Across the street, a weary teacher chased after hordes of noisy children. Some clambered up the climbing frame or tumbled down the shaky slide while others excitedly squeezed the triggers in the model tank, its missile-launcher pointing skyward. These were no ordinary playgrounds, but they were just ordinary people. North Koreans have many beautiful qualities but perhaps above all, they are a long-suffering and resilient people.
Among the more difficult conversations we had were with the doctors. We so wanted to bring good news and yet time and again had to convey the same message – we would love to help more, but our hands are tied.
Worse still were the patient interviews. We met with several. Most were young women. One lady looked to be in her mid-40s but was in fact only 31. She had a four-year old daughter whom she hadn't seen for many months for fear of infecting her.
Hope-filled seed
Having no answers is an uncomfortable place to be. Much was beyond our control.
There were, however, some bright spots. We travelled far and wide and thanked the Lord for work done over many years. We met TB patients enjoying a significantly improved quality of life. There was nutritious spinach and cabbage growing in some well-maintained hospital greenhouses and North Korean medical staff who continue to defy belief with their commitment and creativity. How good to see past efforts bearing fruit.
We were also able to tell patients, face to face, that friends around the world are praying to the Lord for them. It was a simple hope-filled seed sown in the lives of weary people.
What's God doing? The short answer is that he is building his church and nothing and no one will stop it. It may not always be obvious, but that is what is happening.
It was Easter week and how good it was to read of Jesus always reigning supreme, both in death and in life. 'On Christ the solid rock I stand; all other ground is sinking sand.'
Andrew Dudgeon serves with Platform 67, supporting local churches in missions to hard-to-reach areas of the world.