Christabel: the untold story
How one of the legends of women's suffrage found Christ and preached his coming
en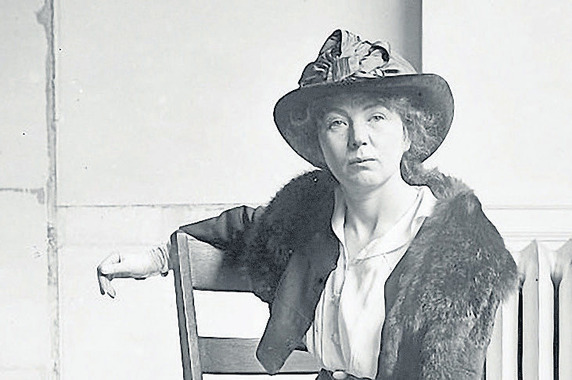 The very first Suffragette to spend a night in prison, Christabel Pankhurst combined campaigns for the right for women to vote with speaking at Christian events, after a conversion experience in 1918.
The daughter of Emmeline and Richard Pankhurst, Christabel was born in Manchester in 1880. Her father had been a member of a Congregational Baptist Union chapel, but became a religious sceptic, so Christabel did not receive any biblical education as a child. The reading of a popular premillennialist work of 1879 by Grattan Guinness1 led to her conversion and to a growing preoccupation with the notion that the second coming of Christ was imminent and that biblical prophecy provided a key for understanding and predicting the course of events.
Arrested
Founded in 1903, the Women's Social and Political Union (WSPU) was led by Emmeline and Christabel Pankhurst. In 1905, Christabel and a loyal follower, Annie Kenny, committed an assault on a police officer at a Liberal Party meeting, for which they were both arrested. From this there followed a decade of civil disobedience involving vandalism, in order to achieve the aim of 'votes for women'. By 1906, the Liberal Prime Minister, Sir Henry Campbell-Bannerman and two thirds of MPs favoured women's suffrage.
But in 1908, Liberal Prime Minister Herbert Asquith did not carry through The Conciliation Bill, which would have given women the vote, despite it having Commons support. He also ignored a rally of half a million people in Hyde Park (getting stones with written pleas attached thrown through his Downing Street window as a result).
Degree in law
Christabel had taken advantage of the opportunity for women to study law and gained a first-class honours degree in law from Victoria University, Manchester in 1906. Brought to trial for her WSPU activities in 1908, Christabel defended herself. She issued a court summons to Lloyd George, who was then the Chancellor of the Exchequer, and cross-examined him personally.
By 1912 the government had decided to crush the women's movement and imprison the leadership. Christabel fled to France and from there she continued to lead the WSPU. She published a tract, The Great Scourge and How to End It.2
This tract was a no-holds-barred exposure and denouncement of male promiscuity. It dealt with sexually transmitted infections and the way in which women were 'victims' of men, in that they passed these infections onto their wives 'from the first night of marriage'. More than 60% of men, she noted, were infected with either syphilis or gonorrhoea. Her 'dangers of marriage' chapters were clear calls for men to embrace sexual purity. Men were good at requiring this of the women they married and yet, hypocritically, were themselves visiting prostitutes before or during marriage.
Timely advice
Though needing an editor's eye to be cast over it – her passion led to unnecessary repetition – the tract would do well to be read by teenagers today, and by those who label biblical marriage as 'limiting', ignoring the freedom it provides. With cases of syphilis reported to have risen by a fifth in 2017 to 7,000 3 and a March report of a man contracting gonorrhoea that was resistant to all usual antibiotic treatment in the UK4, Christabel's advice is timely.
Although many argue that the advent of treatment for sexually transmitted infections removes the need to be so worried about the long-term consequences of illnesses of the 19th century, figures from an Australian study reveal that the uptake of the HIV prevention drug PrEP was accompanied by an increase in unprotected sex.5 This behaviour leads to more infections and the need for more medication. The cost to individuals and to society is impossible to measure.
Some progress
Hunger strikes, forced feeding of Suffragettes and more vandalism preceded a cessation of action due to the First World War, and the eventual passing of The Electoral Reform Bill. This gave votes only to certain women: those over the age of 30; those over 21 who owned their own house; or those married to householders. The Representation of the People Act, passed in 1918, allowed men over 21 and women over 30 to vote. It wasn't until 1928 that the age of voting for women was altered to 21 to match the age for men.
Preaching and teaching
Moving to Toronto in 1923 to join her mother, Christabel received an invitation to address the congregation of Knox Presbyterian Church. This launched her into a popular preaching and teaching ministry in both North America and the UK. From 1926–1927 Christabel wrote a column in the The Christian, an evangelical newspaper published in London. She was also published in other Christian journals and wrote several books on biblical responses to the world's pressing problems.
She was one of the main speakers at the annual conference of the World's Christian Fundamentals Association in 1931. In her writing and speaking, Christabel continually reiterated her core message: the world's problems were insoluble by human effort, but the signs of the times indicated that Christ would return soon, and he would solve them all.
Evangelist
Christabel put all her reading to work in her efforts to teach the Bible and doctrine. She gave appeals at the end of some of her addresses and was known as an evangelist as well as a teacher and preacher. Christabel has been accused of abandoning her feminism. However, she went out of her way to tell audiences that she still believed in gender equality. F.B. Meyer, Keswick's leading international representative, was a supporter who also agreed with women's voting rights.
She took Luke 24.22 as a verse to lend credence to women being in ministry. She transformed the biblical quote 'women also of our company made us astonished' (KJV) into 'make the men astonished'. She said that the women at Christ's tomb being given a commission to bring the good news of the resurrection to the disciples, thereby made them women in ministry.
In 1936 she was made a Dame Commander of the Order of the British Empire. The local paper reported her death in 1958 with 'Dame Christabel Pankhurst, militant campaigner for Christ and women's suffrage, is dead.'
This article has drawn heavily upon the Christabel Pankhurst entry in the Biographical Dictionary of Evangelicals, published by IVP.
FOOTNOTES
1. The Approaching End of the Age Viewed in the Light of History, Prophecy, and Science (1879)
2 Available to read in an unedited version https:// archive.org/stream/b28093318#page/104/mode/2up
3 https://www.christian.org.uk/news/syphilis-cases-20per-cent-one-year/
4 https://www.independent.co.uk/news/health/super-gonorrhoea-worlds-worst-bad-man-antibiotics-sti-std-a8278591.html
5 see 3 above