China: online sales ban
In April, it was announced that there would be a ban on online Bible sales and Christian books in China.
World Watch Monitor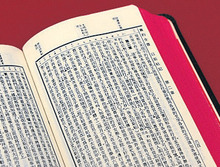 Important books for other major religions, such as the Qur'an and Buddhist sutras, were not taken down and are available online in China, and the Qur'an has a Chinese ISBN number, whilst the Bible does not.
Although being the world's largest producer of Bibles, the Bible has never been entirely legal inside the country. It has always been 'classified as an internal publication for internal distribution within and by registered Christian churches only', according to Joann Pittman, Vice-President of China Source, a non-profit organisation supporting the Chinese Church.
Waiting to happen
The ban on online sales does not surprise Thomas Muller, an Asia analyst for Open Doors International: 'This ban has existed for years, but it was simply not implemented until recently and the authorities seem to have now stepped up their efforts in this respect. It remains unclear, however, what percentage of Bibles have been sold online or via apps'.
The Bible is still freely available in bookshops attached to churches belonging to the state-sanctioned TSPM (Three-Self Patriotic Movement). These are reported to have cameras installed for surveillance purposes.
Smaller churches were already facing a lack of access to resources. 'We are a very young church in China, we've grown rapidly. We need more biblical training. We can't even have normal communication channels with the outside world. We have no Gmail, no WhatsApp, no Facebook. Compared to the lack of communication channels, the new regulations are a small thing,' a Beijing Christian said.
Shrinking grey zone
Selling Bibles in any other way has always been illegal, but the Internet offered a 'grey zone' that the government allowed to exist. Until now. According to China Source President Brent Fulton, China's Christians can expect a 'shrinking of the grey area', although it 'isn't just about religion'.
'The [Communist] Party is shoring up its control internally while seeking to blunt the effects of outside forces that it sees as harmful,' Fulton said. 'For the church this means more direct efforts by the Party to control unregistered church activities while demanding that the church actively contribute to the Party's agenda: economic development – the "China dream".'