Reformation still matters in Leicester
It was the week of the 'Beast from the East', but in late February around 80 people attended the first of three historical lectures at Little Hill Church in Leicester.
Ruth Eardley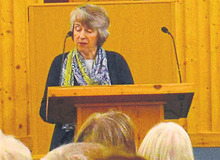 The focus was on John Wycliffe (c.1330-1384) and the Leicestershire Lollards, but the whole was a masterful exploration of pre-Reformation years in England. Under the title 'Anticipating the Reformation', Dr Lesley Rowe (Associate Fellow in History, University of Warwick) showed how God worked in and through men like Wycliffe and prepared the ground for the Protestant Reformation over a century later.