TAKING A LIBERTY
'The Christian Union should be banned from having a freshers' stand.'
Richard Cunningham,

Director of UCCF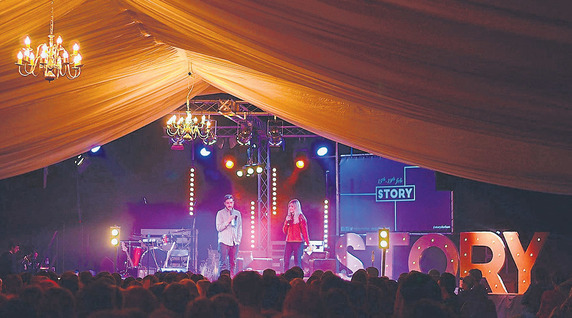 This was the unilateral announcement last October (2017) of two rogue members of Oxford's Balliol College Junior Common Room Committee. This was to make the Balliol freshers' fair a 'safe, secular space'. This decision was subsequently overturned by an irate student body, but the incident caught the attention of the national media.
Upholding basic freedoms
A few weeks later, Universities Minister Jo Johnson (himself an alumnus of Balliol) drew attention to the newly formed Office for Students (OfS). He announced that the OfS will investigate Student Unions (SUs) and others who silence freedom of speech in the name of 'safe spaces' and promised that the OfS will hold universities to account if they do not uphold such basic freedoms.
In response to Johnson's announcement, The Times leader commented: 'In the month or so since the start of the academic year, a well-known feminist speaker has been dis-invited by a Cambridge student society because of her views on transgender people. A Holocaust survivor has been made to tone down her language before speaking to students in Manchester, and the Oxford University Christian Union has been barred from the freshers' fair at Balliol College for fear of causing first-year students offence. These cases of campus censorship happened to make headlines. Many more did not. Today the Universities Minister, Jo Johnson, seeks to halt the erosion of free speech in English universities by requiring them to uphold it as a condition of remaining officially registered as universities. When they fail, students will be able to sue under the Higher Education and Research Act 2017.'
What remains a concern, however, is the growing prevalence of identity politics on campus, which effectively erodes our common humanity and diminishes our capacity for dialogue, debate and even disagreement with each other – towards a better understanding.
Only listening to themselves
Protected characteristics (concerning sexuality, gender, disability, religion or ethnicity) and 'safe spaces' tend to hive people off into their own little echo chambers in which they are to be protected from supposedly hateful or harmful speech. CU members can easily be targeted for their upholding of a biblical view of sexuality or gender or of the absolute claim that Jesus is the only way to God.
In November, a member of a London CU was manning a CU stand outside the SU's Wednesday club night, giving out water and biscuits to those who were a bit 'worse for wear'. A transgendered student approached him and asked for his view on gender reassignment surgery. Having extracted what was in this student's head, the transgendered woman stormed off offended, and immediately reported these views as hate speech and requested that the CU be investigated.
Victim status is a mistake
There is a temptation, in these situations, for CUs to make the false move of claiming victim status, which surely compounds the underlying problem of identity politics.
Claiming our faith as a protected characteristic is not only singularly unattractive to the watching world, but is not obviously encouraged in the New Testament. The apostle Paul, when arrested for offending the religious Jews, was perfectly happy to invoke his Roman citizenship and claim the accompanying rights (given to all Roman citizens) rather than ask for special status as a Christian.
Christians, out of concern for the flourishing of all citizens, must surely challenge campus censorship when they encounter it. The current chilling of our shared spaces is affecting university teachers, wardens of university halls of residence and all those with political, religious or ethical views who are not willing to echo the currently acceptable shibboleths. In 'praying for the peace of the city', we need to defend freedom of conscience, freedom of speech and freedom of association, which are foundational to basic human flourishing.
In Parliament at the moment (end of February), the Joint Committee on Human Rights is coming to the end of a 'Free Speech in Universities' inquiry. The scope of the inquiry is as follows:
• Whether government policy on free speech in universities is coherent
• Taken together, do the Prevent duty and the statutory duty to ensure free speech appropriately balance Convention rights and public interest considerations?
• The role of the Office for Students in ensuring freedom of speech
• University authorities have a statutory duty to secure freedom of speech, including on Student Union premises. Student Unions say they are private bodies and have a right to refuse speakers. Should university authorities have responsibility for the activities of their Student Unions? If so, to what extent?
• Is there concrete evidence that free speech is being suppressed in universities? Who should be responsible for monitoring this?
• If there is a problem, in what ways is free speech being suppressed? By whom? What are the causes? Is any problem increasing?
After being invited by a member of the Joint Committee, I made a written submission on behalf of UCCF: The Christian Unions. Oral evidence is beginning to conclude, after which Harriet Harman (Chair) – who might easily be sympathetic to Student Unions restricting speech deemed to be harmful or hateful – will be considering her recommendations. While CUs for the most part enjoy a good relationship with their SU, there are – on most campuses – some students and sabbatical officers who agitate for all speech deemed to be harmful (whether religious, political or ethical) to be censored or banned.
Pray for continued freedoms
Do please pray for the continuation of the incredible freedoms that allow CUs to hold regular lunchbars in the middle of campus, carol services in some of the most iconic buildings and mission events that attract tens of thousands of students. Do also pray that, as Christians speak into this debate, we would win hearts and minds. And that we would commend the goodness and desirability of a world view that recognises all men and women as God's image bearers (regardless of their sexuality, gender, disability, religion or ethnicity) and so confers dignity, worth and respect that are seriously threatened by identity politics and the chilling of basic freedoms.