Billy Graham – living proclamation
Richard Bewes, former rector of All Souls, Langham Place, recalls his meetings with the great evangelist
Richard Bewes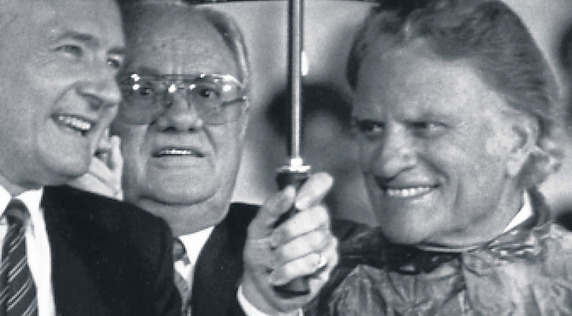 The first time I ever heard him, it was like a drumbeat in my head: You are going to be doing this for the rest of your life.
Quite early I learned that to preach is not to be reading Bible essays aloud to the end of time. It is not a meditation, news comment, chat or dialogue. It is living proclamation – with the heart as your target!
True, Billy Graham had the entire world in his sights. I was one of 12,000 preacher-delegates listening to him in Amsterdam: 'When I saw those men, walking on the moon, and then – from the moon – they showed us our own world, hanging out there in space, I wanted to reach out and grab it for God!'
Just one person
That was the World Evangelist. But there was another side to him. Shortly before one of our great London events, Ludovic Kennedy asked him on TV: 'How many, er, converts are you expecting from this campaign?' Billy replied, 'One – just one! If one person responded to Christ, we would think our coming was rewarded.' He added: 'If I could win just you to Jesus Christ, it would have been worth the trip.' The subject was rapidly changed …
That was the other side of Billy. In front of 80,000 people, the single heart was always the target. This was stamped upon me from the beginning. Never preach to a crowd – just to one person!
Dr Graham's UK associate, Maurice Rowlandson, once brought him on a surprise visit to me – a young vicar in Essex. This led to further surprises, including international events, such as in Brussels, attended by thousands of young people from all over Europe. As the Programme Chairman, I patiently explained to friends that the event's name, 'Eurofest', signified not a new form of weed-killer but a Bible youth event!
Billy was there, too – simultaneously conducting a major campaign in Brussels' football stadium. This was the first time I heard the evangelist speak by interpretation. His timing and his use of 'international' phraseology was perfection itself. Later I was to remind my fellow-preachers at All Souls: 'With many nationalities here, let's get speaking in Internationalese!'
But Billy's interpretation could sometimes go ludicrously wrong. Preaching once in Copenhagen, he declared: 'John the Baptist had his head cut off.' Billy was puzzled at the roar of laughter that the translation provoked. Afterwards he was told what the interpreter said: 'John the Baptist had his head amputated!''
Care and courtesy
I have hosted press conferences for him, and he would treat reporters – even the hostile or frivolous – with a care and a courtesy that won them to his side. To one and all, he was a living example of Philippians 2.3 – in humility 'counting others more significant' than himself. It happened to me once, when chairing a packed-out Wembley Stadium at the close of London's Mission '89 – in drenching rain. Earlier in the proceedings, a bolt of lightning hit the stadium with a thunderous clap. The great evangelist immediately took the umbrella that I had been holding over both of us.
'Richard,' he said, 'I'm going to hold the umbrella from now on. You're younger than I am – and you're preaching at All Souls tomorrow.' I took the umbrella back. 'No,' I insisted, 'it won't happen again – and in any case you're preaching in ten minutes' time!'
Later we witnessed thousands in public response as they paddled across the clogged turf, many of them holding their shoes in their hands. I stole a look at Billy's soloist, Bev Shea, yards away. He was weeping and I thought, after all these years, it still gets to him.
As for Billy, he would not only become nervous; he would arrive exhausted by the media and by endless requests. I once had to wake him, backstage, in time to speak. He later confided: 'Sometime I get to the podium completely drained. Then I sense an extraordinary power descending. I attribute that to the thousands who were praying for us.'
It was always 'us'. His language was always in terms of 'our team,' or of 'us' and 'we'. Never once did I hear him speak of 'I' or 'me.'
What kind of a man?
People have asked: 'What kind of a man was he?' The answer is: 'His home was the dead give-away!' It had been built to Ruth's design – of local logs halfway up a mountain – simplicity itself. I have had the great honour of visiting several times. There are no chandeliers, gold taps, servants or swimming pool. No prestigious memoirs are on display for this man upon whom an honorary Knighthood was conveyed by HM The Queen in 2005.
On the final visit of all, my wife Pam was with me. 'I first heard you,' she said to him, 'when I was seven!' Mr Graham was recovering from bronchitis. Pam held his hand as we chatted, prayed and read from Isaiah 40 – 'those who wait upon the Lord shall renew their strength.' Somehow, we sensed that was the last time.