USA: faithful remnant
Only four out of 100 teenagers have a true biblical worldview, according to a new survey from the Barna Group, even though 59% of Generation Z teens say they are Christian or Catholic.
Religion Today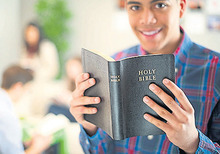 85% of churchgoing teens believe that Christ was a 'real person crucified and raised from the dead'.
The survey, 'Gen Z: The Culture, Beliefs and Motivations Shaping the Next Generation', said that teenagers who are part of Generation Z (born from 1999 to 2015) are the most non-Christian generation in US history.
Of those surveyed, 35% of Generation Z teens say they are atheist, agnostic or unaf-filiated to any religion. That number for mil-lennials and Generation X was 30% in each generation. In Baby Boomers, it was 26%.
'Gen Z is different because they have grown up in a post-Christian, Postmodern environment, where many of them have not even been exposed to Christianity or to church. So that is a unique shift,' said Brooke Hempell, Barna's Senior Vice President of Research.