Israel: facing opposition
After opposition shut down a meeting centre for Messianic Jews in southern Israel last May, ultra-Orthodox Jews began harassing it again after it re-opened in January.
Morning Star News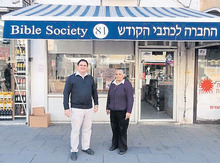 The ultra-Orthodox Jews protested the presence of the centre and threatened some of the Messianic Jews (Jewish followers of Jesus). The centre, where Messianic Jews meet for conversation, coffee and tea, had been temporarily closed last year due to protests by ultra-Orthodox Jews after which they damaged Messianic Jewish leaders' homes, breaking windows and traumatising two children inside one home.