What­ makes ­a ­good ­church ­leader?
Any biography written by Iain Murray will be sought after by those who love church history and desire to learn from the lives of God's saints.
Gareth Burke,

minister, Stranmillis Evangelical Presbyterian Church, Belfast.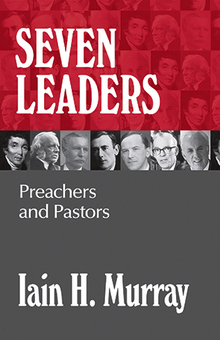 SEVEN LEADERS:
Preachers and Pastors
By Iain H. Murray
Banner of Truth Trust. 296 pages. £21.02
ISBN 978 1 848 717 398
This is an intriguing volume in which Murray shares with us concerning the lives of seven leaders in the church from different eras of history. The following men are considered in these pages: John Elias, Andrew Bonar, Archie Brown, Kenneth MacRae, Martyn Lloyd-Jones, W. J. Grier and John MacArthur.
Prayer and Scripture
The amount of biographical detail included varies considerably from person to person, and some of those featured will be much better known than others. While I do not think the author consciously set out to do so, a number of themes recur throughout this volume – most notably the importance of prayer and communion with God among those who lead in Christ's church and also the need to recognise that systematic exposition of Scripture is a good model for preaching, but not the only one that God chooses to bless.
Perhaps the best way to review this book is by giving you a quick flavour of three of the chapters.
Andrew Bonar
In considering Andrew Bonar, Murray asserts that 'he was not what is commonly called a "popular preacher". How then did he build and sustain a large congregation through many years? … because what a preacher is as a Christian is of greater consequence than his natural gifts' (p. 61). 'It has become customary in many places for preachers to think that the only way to preach is to expound a passage or book of Scripture consecutively from week to week. It is worthy of notice that this was not the view of Bonar or his friends. Their most common method of preaching was to take distinct and separate texts' (p. 67).
Kenneth MacRae
Iain Murray returns to this theme of preaching in considering the life of Kenneth MacRae: 'In his lectures MacRae dealt with the danger of taking single texts, in no consecutive order, from week to week. In that practice a preacher may too easily revert to the type of text which suits his cast of mind. Or he may lose much time in trying to determine the text he should take. But there are remedies for these dangers, and speaking from a single text was MacRae's normal, though not invariable, habit. I believe there are good reasons why this method has usually been the most popular in Christian history' (p. 119).
W. J. Grier
In his chapter on W. J. Grier, which is appropriately subtitled 'Against frittering life away', Murray lays out effectively before us the sheer busyness of Grier's life. One is left wondering – 'How was this possible? How could so much be done by one man in the service of Christ?' However, we are reminded in regard to Grier, as well as in regard to the other leaders, that his effectiveness in gospel ministry wasn't just a matter of good organisation married to significant intellectual ability. Above all, he achieved what he did though cultivating a close walk with God.
The importance of a regular life of prayer and the necessity of keeping close to the Lord is a worthwhile theme that shines from the pages of this book. In an address to the Leicester Conference on Acts 1.12-14, Grier stated that 'prayer had priority in those days. The professing church today has often got her priorities all wrong … unless we look up to God in heaven, we can never work effectually on the earth below' (p. 201).
This is a well-researched book which will be of benefit to any of the Lord's people who read it, but will prove to be particularly challenging and helpful to those involved in the work of the ministry.