Pakistan: attack on church and heroism
Two Islamist terrorists attacked the Sunday morning service at Bethel Memorial Methodist Church in Quetta on 17 December, killing nine Christians (including women and children), who died at the church or in hospital from their injuries, and injuring more than 60 others.
British Pakistani Christian Association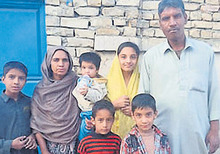 Many lives were saved by two courageous men who held back the attackers at the church gates. Realising that they were about to be attacked, Sultan Masih (aged 36) quickly locked the gates and warned others to get into the church building. He was joined in facing the terrorists by another man, 63-year-old George Masih (not related to Sultan). A second after he locked the gates, the first terrorist arrived. It took the terrorists 82 seconds to climb the gate and get in, thus giving valuable time to the believers to take cover. George can be seen on the CCTV before the terrorists jump down. Both Sultan and George were killed, but their tremendous bravery in facing the terrorists alone saved many other lives.