Cleared
A Christian street preacher was acquitted on 20 December of using 'threatening and abusive language' while preaching in Wood Green, London.
Christian Concern / Christian Institute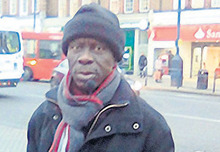 Pastor Oluwole Ilesanmi had been charged concerning a sermon preached in June, when a Muslim and two political activists pressed charges that he criticised the Qur'an. Although he was charged with an Islamophobic hate crime under the Public Order Act, the Crown Prosecution Service, having considered written representations from his legal team, decided to discontinue the charge prior to trial.