Digging deep in the Valleys
Mark Pickett talks to three young pastors working hard in churches in the Valleys of South Wales
Mark Pickett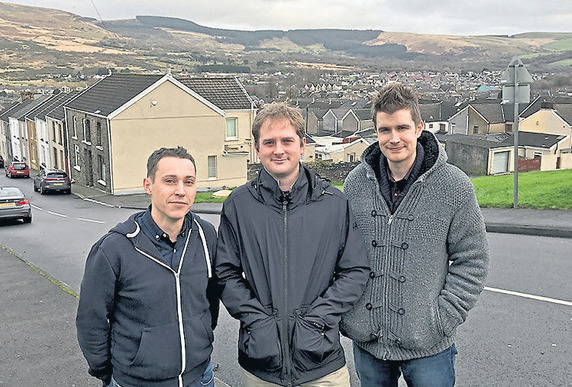 I met up with three men to talk about gospel ministry in a small group of valleys in South Wales.
Their names are: Andrew Norbury of Peniel Evangelical Church, Maesteg in the Llynfi Valley, Jonny Wilson of Calfaria Baptist Church in the Garw Valley, and Owen Batstone of Calvary Baptist Church, Ogmore Vale, in the Ogmore Valley.
MP: Andrew, would you describe the South Wales Valleys for us?
AN: In the 19th century, coal mining started in these valleys and a lot of people moved here for work. The towns and villages were booming then. The coal mines are now shut, though, and people have to travel to find work. So, it's changed a lot and there are lot of social issues as a result of the unemployment. In spite of that, if you were to drive up into the valleys today you would see a lot of beauty, with lots of green fields, hills and mountains.
MP: It's an unusual mix of urban and rural, isn't it?
AN: Yes, you can walk from the shops to the mountains in about ten minutes.
MP: Owen, when you drive up into the Valleys you are struck by the many old chapels that line the roads. What's that all about?
OB: There are a lot of chapels in the Valleys because they have known quite a few revivals, when the Lord drew particularly close to his people and drew many people to himself. In 1859 and 1904/5 thousands of people came to Christ in the Ogmore Valley, so they built a lot of new buildings for them to gather in.
MP: Many of those chapels have closed in recent years. Why is that, Jonny?
JW: Some weren't able to call a minister, so people weren't fed, some drifted into liberalism, others closed because their people moved away, and still others closed because of spiritual decline. There are a number of chapels in our valley that are being sustained by a few elderly people and unless God moves they too will shut in the next ten or 15 years.
OB: Also, some churches got lazy with their evangelism and didn't make efforts to communicate the gospel effectively.
AN: Although the churches were full, it was not always for spiritual reasons. People would go along to a church where the boss of a mine was a deacon in order to get a job. Church was socially acceptable. Everybody went.
MP: And now that it is socially acceptable not to go to church, why haven't the churches you represent closed down?
JW: By God's grace, really. There has been a history of gospel men. Each of these churches made a leap of faith to call and sustain a minister, and that has played a significant role.
MP: Tell me about the community in which your church is located. Do you live in the community?
AN: We all live in our communities. There are 25,000 people just in the Llynfi Valley, but with a tight-knit feel where everyone cares for each other. But that makes it challenging for me to get to know people, as I am not from here originally.
MP: You are Welsh and you feel like an outsider!
AN: Yes, very much so. Everybody else was born and went to school here. Not many people move in.
MP: So, is it hard to build relationships?
AN: People are very friendly, but to get beyond that takes a lot of effort.
OB: On the other hand, some people have pulled me aside and asked me: 'Why have you left Cardiff to come here? There is nothing here. The Valley is dying.' They have been taken that someone with a young family would move in, and that gives a good opportunity to share the gospel.
JW: In our village, being near the motorway, a number of young professionals have moved in with their families, and whereas those who have been here for generations have relationships already, the new families are looking to form friendships.
OB: In our village, it's young single mothers on benefits that are moving in.
MP: Do people phone if they have a need?
JW: Yes, I've taken a number of funerals but most of my contact with people has come from being a resident of the village.
OB: Me too. But taking funerals and being there for people with their problems when they knock at the door is a massive part of this calling.
MP: What kind of problems do people have?
OB: Let's just say there is never a dull day in the South Wales Valleys! Every tragedy you can imagine is on the doorstep.
MP: Broken relationships, alcoholism, drug problems, mental health issues, children going off the rails …
OB: … apathy and laziness, mixed with hard work – a funny mix. On top of that you have a lot of spiritualism. One of my main callings is dealing pastorally with this.
MP: All three of you are young but wouldn't most of those in your churches be older?
AN: Yes, that is true for us.
JW: And for us too.
OB: But in Ogmore Vale it's the dead opposite.
MP: Why is that?
OB: I don't know how it happened. I have been praying a lot and over time the Lord has been working in the lives of people. They've been inviting people along. Our meetings are accessible and easy to follow: people don't have to do a cultural commute from outside to inside.
MP: So, in terms of evangelism and reaching out to the community, is most of that happening in the chapel?
OB: If it is biblical I have tried it. We have a good array of meetings so there is something for everyone, whatever their schedule. But in the Valleys, as everybody knows each other, much is built on friendships outside the church. However, I really do believe in prayer as the key answer, because when things have happened I think there is no way that that is anything other than the kindness of God.
AN: You work as much as you can to make your ministry accessible and relevant but we pray and sometimes God brings someone in. We couldn't have planned for that. Elijah laid the wood on the altar but God sent down the fire. And we work too and pray for God to send down the fire.
OB: One of my prayers was for some men to either be saved or to move in because most of the people in my congregation are unsaved and most are women. Now in answer to that prayer we have four clearly saved men in the church.
MP: Tim Keller argues that planting new churches is better than revitalising old ones. How do you respond to that?
AN: There is room for both revitalising and planting. We have a building and prayerful loving support – it's a privilege to be here. I have learned so much from the older people. I don't know what I would do without their love and patience. They can teach a lot to young believers as well. But I'd love to see more churches planted in the Valley too. If our church were full we would still only have one per cent of the population.
OB: If someone swans in and plants a house church, the people would view that as cult-ish. They trust an established church because of their previous connections. But if others want to plant in the Valley, then the more the merrier, as long as there is a gospel focus.
MP: How can we pray for you?
AN: This is a wonderful gospel opportunity. As the community is so close, if a handful of people came to Christ the potential for the gospel to spread like wildfire is huge; so please pray for key people to come to be saved. Only God can do that.
JW: If people want to move in there are plenty of opportunities for service.
OB: Ultimately the answer is a movement of God. If not all we do will be worthless.
Mark Pickett lives in Porthcawl, Wales and is involved in helping people think through the issues relating to communicating the message of Jesus across cultural boundaries, having spent most of his adult life in Nepal.