Anglican Update Praying for 2018
A bit of a different column this month – consisting of prayers to use for the Church of England (and other Anglican groups) in your devotional times.
David Baker,

rector, East Dean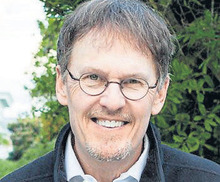 (1). A prayer for gospel ministers by J. C. Ryle, first Bishop of Liverpool: 'Pray that we may be kept humble and sensible of our own weakness, and ever mindful that in the Lord alone can we be strong. Pray that we may have wisdom to take the right step, to do the right thing in the right way, and to do nothing to cause the gospel to be blamed. Pray, above all, that we may go straight on, even unto the end – that we may never lose our first love, and go back from first principles; that it may never be said of us, that we are not the people we once were, but that we may go on consistently and faithfully, die in harness, and finish our course with joy, and the ministry which we have received of the Lord Jesus, to testify the gospel of the grace of God.' Amen.