Nigeria: 'shooting in all directions'
A church elder in Plateau State, Nigeria saw Muslim Fulani herdsmen storm into his village at 11pm on 13 October, shooting in all directions.
Morning Star News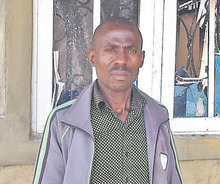 'Every one of us ran to save his life,' Dauda Samuel Kadiya, 38, of the Evangelical Church Winning All (ECWA) in Zanwrua said. 'I was shot at, but the bullet only bruised my hand.'
The assailants destroyed eight houses in the attack, one of several assaults in Plateau State between 8-17 October, killing 48 Christians.
'All Christians in villages around here have been displaced, and worship buildings have been abandoned, Kadiya said. 'Some of the church buildings were destroyed by the attackers.'
62-year-old Agado Aura recounted how he and his wife narrowly escaped death. 'Myself and my wife were still sitting in front of my house chatting at about 11pm when the attackers came. We could not go to bed early, because the previous night a village near ours, Tafigana, was attacked by the herdsmen. Suddenly, we heard gunshots from the eastern part of the village. We ran into some of the nearby rocks close to my house and hid there.
'They came to my house and started shooting. They broke the doors to our rooms and then set fire to my house. Then they went to the next house and did the same. They continued burning houses until they were done.'