India: praise & forgiveness
A pastor in Uttar Pradesh has forgiven his attackers despite losing hearing in one ear after Hindu extremists tortured him, pressured police to falsely charge him and prevented doctors from treating him in late September.
Morning Star News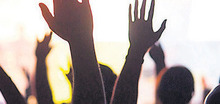 Pastor Abhay Sagar, 37, of Biswan town in Sitapur District, was about to begin preaching when he was attacked. 25 men from Hindu extremist groups Bajrang Dal and Vishwa Hindu Parishad barged into the schoolroom where the congregation was meeting, according to the pastor's wife.