India: attack after conversions
Morning Star News
Weeks after a pastor led five families to faith in Christ in southern India, masked men on motorbikes intercepted him on his way home from worship on 5 October and tried to kill him.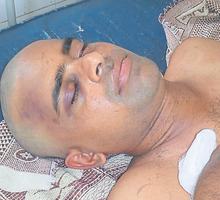 Pastor Banothu Sevya, 26, was in a coma for 48 hours after the drunken Hindu extremists beat him in Govindapuram, on the outskirts of Jamandlapalli village in Telangana State. They had threatened him twice before, he said.
Pastor Sevya said: 'I didn't pay attention, knowing that when the Lord's work is taken up, there will be hurdles, and I never complained to the police officials'.
In their prior threats, the assailants had accused him of fraudulent or forcible conversion, asking how he lured Banjara tribal people and what he told them.
'I told them, I only share the gospel, that we are all sinners, and this world is to come to an end. Only Jesus Christ can cleanse us from the sins. He was crucified for our sake, and rose again to present us [with] eternal life.'
Astonished
Pastor Sevya first preached Christ in Jangi Thanda, a village in Govindapuram, at the request of a relative. When five families came to Christ, he had been as astonished as anyone.
'I belong to the same Banjara tribal community, and it is not possible by human strength to separate them from idolatry – they have a number of gods enshrined in rocks, trees, water and the like. The five families left everything behind and have been walking in the light since they invited Jesus Christ into their hearts. It is a miracle.'
Alive by God's grace
On the evening of the attack, more than 60 villagers had gathered at his relative's house to study the Bible and worship.
The pastor said he was alive only by the grace of God.